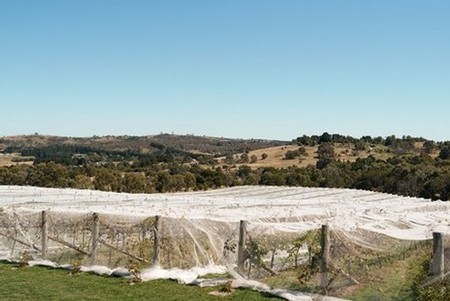 We're no stranger to ups and downs, with all the happenings of the last couple years, and our vintage 22 was full of them.
With a wet spring and less-than-optimal summer temperatures, it was definitely a challenging growing season.
But at Contentious Character, we don't turn away from trials and we were still able to work some of our magic, like we always do.
With our own vineyard in Wamboin, we were able to keep on top of the rain and stave off any potential diseases (did you know the netting to keep away those pesky flying foes?).
We've been slowly working through harvest, with the last of the red grapes due to come off over the Easter long weekend. We leave the red grapes until last so they can continue to ripen with deeper colours, higher sugar levels and more complex flavour profiles.
Thanks to our foresight over 2020-21 with our growing arrangements, we're also getting in some magnificent fruit from other regions. From Cowra, we're already picked and processed our Shiraz, Chardonnay, Pinot Gris and Rosé and sparkling bases. For our Chardonnay and sparkling wine, the early picking time helps make sure the acidity and flavour of the grapes are perfectly balanced.
Mudgee has also delivered some uber-tasty Shiraz and Cabernet, alongside Chardonnay which we've got under oak, as well as some muscat, which will be laid down as a fortified wine.
From Orange, we've also sourced some additional Pinot Noir and from the Hunter; Shiraz (which apparently is some of the best fruit from the region this season!)
Unfortunately the wet weather did significantly impact the vineyard in Bigga and the fruit there. However, we will be bottling the 2021 Pinot Noir mid-year and this is looking fantastic. We can't wait to see what vintage 23 brings from Bigga.
Over the coming months, we'll continue to apply ourselves to getting these new wines settled and then onwards to bottling some of vintage 21 and vintage 22 wines.
For all those that have assisted us during this year's harvest - a big thank you to you!
Canberra Gifts, Done The Contentious Way
Never before has the sentiment of 'support local' been stronger and we're here for it. Just 20 minutes from Canberra Airport is our Wamboin winery. Here you'll find beautifully packaged gift hampers of quality, delicious locally and regionally produced goods. Order online with Australia-wide shipping or purchase on-site to treat a loved one.
This $49 hamper has all the ingredients for a little me-time.
Let us paint a picture for you. It's been a looong week for your loved one. The doorbell rings. They open the front door to a package. They're curious - what could possibly be inside? They're already giggling at the wrapping, with our quirky manifesto all over it.
Inside, there's a bottle of our 'Give Me One Good Riesling' 2021 Riesling, a jar of our house-made chutney and a bar of our soap that smells INSANE (it's lemon, lime and coconut, as inspired by our Riesling, ICYW).
They remember life's to be enjoyed and immediately chuck their OOO on. They grab a wine glass, some manchego cheese and rosemary crackers. And then with Ziggy Alberts playing in the background, they settle in for a slow, relaxing arvo on the sunlit deck...
And who do they have to thank? You.
Inclusions:
1x bottle of Contentious Character wine from our Statement Range with quirky names like 'Give Me One Good Riesling'.
1x Contentious Character Chutney
1x Contentious Character Soap
We know how to make the best bath ever.
It starts in an emerald green, antique claw foot bathtub, with gold fixtures. The water is just a few touches below scalding hot. It's golden hour outside and the sun is casting long, romantic shadows in the bathroom.
We throw in a Loveshak Sea Soak (Champagne with lavender and peppermint please) and let the salts, clay and oils steep…
While we're waiting, we pour ourselves a generous glass of our 'Coming Up Rosés' 2021 Rosé; we barely get the lid back on the bottle before taking a sip, savouring those raspberry and strawberry tones.
We throw on some soulful tunes, pump in some Contentious Gerani Yum soap to really get those berry aromas going and…that's us for the next hour or, dare we say it, two.
Gift a loved one (or yourself) the ultimate bath with a $59 Pamper Me Hamper.
Inclusions:
1x bottle of Contentious Character wine from our Statement Range, with funny, punny names like 'Coming Up Rosés'
1x Contentious Character soap
The makings of an indulgent, boozy afternoon picnic are found in this $59 hamper.
It starts in a fragrant, verdant backyard, with colourful rugs spread out and giant, soft cushions. There's an almost obnoxiously large platter in the middle, brimming with artisanal cheeses, cured meats, freshly baked focaccia, fig and olive crackers, grapes and berries and more. A bottle of our Pinot Noir is already opened, sitting pretty next to a set of shiny RIEDEL glasses.
An hour passes, just crumbs remain and glasses have long been empty. Just when you think it's over, a beautifully ornate bowl of cherries, dotted with squares of Jasper & Myrtle chocolate appears. A large teapot pours out our Pinot Gris and Fabulous tea, a floral French Earl Grey tea that reminds us of a Parisian afternoon…
Even still, there's really nowhere else we'd rather be.
Inclusions:
1x bottle of Contentious Character wine from our Statement Range, with eyebrow-raising (and conversation-starting) names like 'Whiffle Waffle'.
1x Jasper & Myrtle's artisanal and award-winning chocolate bar (70g)
1x Contentious Character tea range, inspired by our wines
Tell them you love them in a BIG way with our $99 hamper.
If the essence of our winery had to be captured and put into a box, this would be it.
For an at-home grazing board, we recommend some aged cheddar, an organic brie cheese and some creamy blue, alongside salami and proscuitto, with lavosh crackers and freshly baked baguette. On the side, a bunch of red grapes, crunchy green apple slices and squares of Jasper & Myrtle chocolate. And to tie it altogether, our trio box of condiments (a chutney, jam and honey) and two bottles of wine.
Unfortunately, we can't package up the views but their taste buds will definitely think you're at our boutique winery in beautiful Wamboin!
Inclusions:
2 x bottles of Contentious Character wine from our Statement Range
2 x Jasper & Myrtle chocolate bars (70g)
1 x Contentious Character soap
1 x Contentious Character condiments trio pack
If your loved ones are far away, they can still experience the Contentious way with a virtual wine tasting experience, in partnership with RIEDEL.
For $280, we send out FOUR bottles of our best-selling wines alongside a set of 4 RIEDEL Performance Tasting glasses.
We pair the Sauvignon Blanc glass with our 'Viva La Verdelho' 2021 Verdelho (it's organic); the Chardonnay glass with our 'Chardy Party' 2021 Chardonnay; the Pinot Noir glass with our 'Undercurrents Run Dry' 2018 Pinot and the Cabernet/Merlot glass with our premium 2018 Merlot.
We'll organise a private virtual wine tasting for them so they can sip, savour and slosh in the comfort of their own home.
We've learnt that distance is no matter when it comes to good friends, good food and good wine. We'd be honoured to be the maker of good times for your loved ones.
Please two people with one experience.
It's 11am on a Saturday or Sunday and there's not a cloud in the sky. Your loved ones are about to taste up to 8 Contentious Character wines, spanning across aged vintages from our Founders Museum Collection and our more recent ranges. We pair our wines with a tasting plate of matched food elements such as cheeses from down the road in Wee Jasper and cold-cured, nitrate-free meats sourced locally.
With the taste buds well and truly tickled, they then enjoy a 2-course lunch that blends traditional Italian with contemporary Australian. Their meal is complemented with a glass of wine of their choice - and sweeping views of the Wamboin hills.
The sun is high in a bluebird sky when they leave, full and happy - and so reconnected, rejuvenated after a wild 2021. They say people never forget how you made them feel. You'll be down in the good books for life with this one and all for just $270.

Bespoke hampers + gift cards
And if nothing above quite fits, we can put together custom hampers for you, tailored to your budget. Simply email us at info@contentiouscharacter.com.au or call us on 02 62383830 to start creating your hamper.
Gift cards are also available from $25 to $250. These can be spent in person or online. Whether they spend it on some cool-climate Canberran wine to drink over in WA, or they use it to book a wine tasting and lunch, they're guaranteed to have a wonderful time.
Adapted from the Underground Spirits' blog
Two award-winning Canberra region producers and a cocktail guru. It sounds like the beginning of a joke, but it's actually the future of cocktails, newly launched.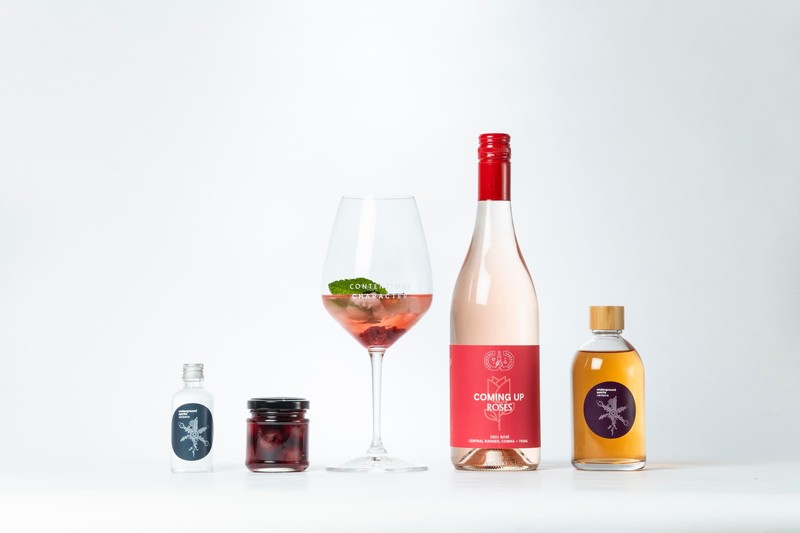 We've teamed up with Underground Spirits, and Canberra's cocktail guru, The Martini Whisperer to bring you Sunset Forage, a unique, boutique cocktail experience that you can enjoy at home. Because even as things open up, we've all learnt the beauty and power of our own backyard.
Our new Future of Cocktails pack is the mélange of a wine and a gin - and the addition of a garnish that could come from your very own garden.
Each pack contains a full size bottle of Contentious Character's 'Coming Up Roses', a savoury-styled rosé made from shiraz grapes and a 250ml bottle of Underground Spirits' Shiraz Gin with Tasmanian Pepperberries, offering notes of vanilla, toast and cedar with the fruity juicy characters of the shiraz.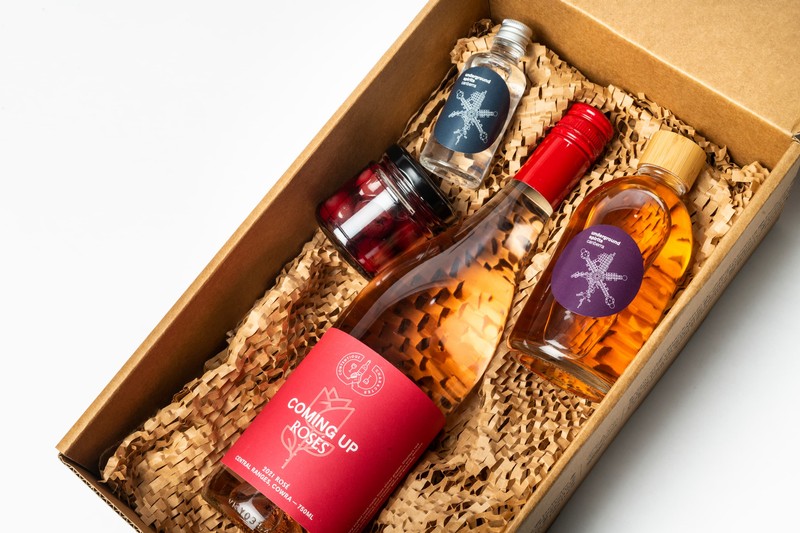 The Martini Whisperer worked with us to develop the delicious Sunset Forage cocktail out of our gin and wine combined with a make-at-home cherry liqueur made with Underground Spirits Vodka. Warning: it is seriously, dangerously moreish.
With a video to guide you through the mixology, all you need to do is dress up a little, set the mood with some music and immerse yourself in the Future of Cocktails.
For the first round, garnish with fresh raspberries and mint for a seriously, dangerously moreish cocktail. Next, have a gander for your own garnish to personalise your Sunset Forage. We're imagining sliced strawberries and rosemary from the garden or keep it simple with some orange peel.
So cheers to the future of cocktails, available now at 110 dollars (and makes 8 cocktails so gather the troops!)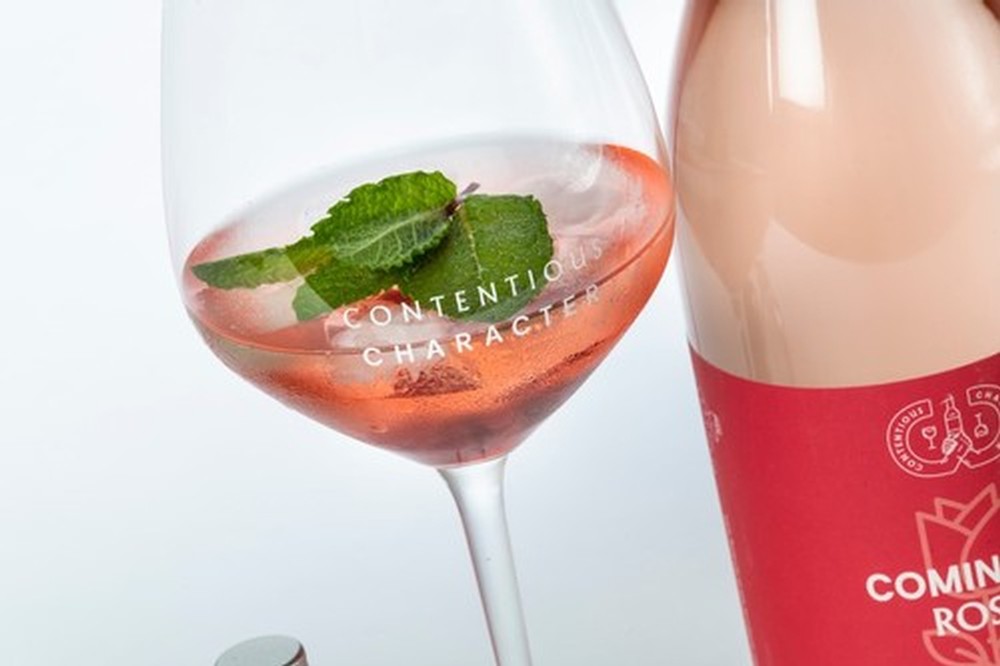 There's still one thing you can count on in 2021, irrespective of variants and restrictions, and it's wine.
Specifically, premium, guzzle-worthy wines with character, from yours truly.
Introducing our just-released sexy suite of delicious drops that know how to make a statement. So make yourself a cuppa (did you know we make our own teas too?), settle in and meet the new good-looking kids on the block.
This red is seriously sensual. It has a deep velvety-purple colour that is luscious just to look at. In that first sip, you'll savour mulberry and blackberry flavours, with hints of graphite to give it that extra oomph. This Merlot keeps on giving too, with strong grippy tannin that really goes the distance.
Up your game when sipping this one and serve it alongside decadently braised and slow-cooked wild boar and thick, luxurious Venetian duck ragu.
Apparently, Pinot Noir is the 'healthiest' red wine that you can drink.
We can't prove that, but we can attest to the smooth and easy drinking, that is our 2019 Pinot Noir. This is a dry unfined Pinot, with hints of violet, cherry and cranberry flavours.
For those into cellaring, this red features medium-bodied tannin which means that with some TLC, it'll further develop into an even more elegant wine.
For those who want to enjoy it now, we love to pair it with crispy, aromatic Peking duck (with pancakes, please).
HELLO, to our Shiraz in ruby red!
Shiraz are famous for their fruit profiles and this one's no different, with soft perfumes of cherry, raspberry and hints of pepper (just to keep you interested). You'll find a finely spun tannin structure here, alongside subtle naughty notes of tobacco and blueberry on the finish.
This is one you'll want to draw out so pour it generously alongside steak dinners and roast lamb feasts.
2019 'Whiffle Waffle' Pinot Noir
This Pinot is for those who like to do it a little differently. You'll be whiffle-waffling about this red for its earthiness and mushroom aromas, as well as its subtle hints of sour cherry and some nice, groppable body.
We love to love this Pinot when tickling the tastebuds with spicy food. It also goes down a treat with tender, fatty duck dishes and actually, chargrilled vegetables (who'd have thought?).
2021 'Chardy Party' Chardonnay
AIN'T NO PARTY LIKE A CHARDY PARTY. Did you know that chardonnay is known as the winemaker's grape? It's a low-maintenance and yet classy and delightful wine. One can only hope for the same in a partner but when trapped to the confines of your four walls, this might be the best you can do for a while.
Our 2021 Chardonnay is lightly oaked with green apple and lemon aromas with crunchy apple textures, supported by nice clean acidity for length.
A classic wine deserves a classic meal so sip it while indulging in some perfectly roasted chicken, with ALL the sides.
2021 'Priscilla Queen of the Pinot Gris'... Pinot Gris, of course!
Freshen up when things get all hot and heavy with this crisp Pinot Gris, displaying lemon and hints of melon on the nose, with citrus lemon flavours and solid acid structure.
This one's a friendly little number; it loves to tango with fresh seafood dishes but also loves to get down and dirty with Asian stir-fries.
2021 'Give Me One Good Riesling' Riesling
Picked early, this is a light semi-dry Riesling with aromas of lime, grass and hawthorn, which come through on the palate.
If you love fresh, zesty ceviche dishes that immediately transport you back to South America...well, that's the only riesling you should need to sample this Riesing because ceviche and this crisp little number are made for each other. And look, it'll be the closest you'll get to Peru for awhile.
ARE things really coming up Rosés, you ask? We're doubtful too but there's no doubt this Rosé is delectable.
Our 2021 Rosé is savoury-styled, made from shiraz grapes. It displays red berry aromas, raspberry and strawberry flavours with delicate spicy notes and a clean crisp finish.
For this one, we think you should go all the way and get the lobster. After all, if things aren't looking up, then we might as well go down in style (with glasses way more than half-full).
2021 'Give It A Burl Shirl' Sparkling Chardonnay
Whether you have this with food, or without food, we guarantee you'll be mighty pleased that you gave it a burl, Shirl.
This sparkling is sure to please and put a hop in your step, with green apple and stonefruit flavours and a lively, crunchy texture.
If you're playing it on the safe side and want to serve it with some substance, we recommend seafood dishes.
2021 'Viva La Verdelho' Verdelho
Our first organic wine and the love child of a new growing arrangement in Cowra. This Verdehlo displays tropical fruit flavours with hints of passionfruit and lime, supported with good clean acidity for length.
Sip this Verdelho while indulging in some freshly shucked oysters and you'll feel like you've just been dropped onto a five-star resort on a remote Thai island - one can dream, right?
And so there you have it. The fruits of our loins are now available for your enthusiastic enjoyment. Order a case of 12 bottles and enjoy 15% off on us.
For some, the colder seasons are a time for chilling out - as in slowing down, slothing around, hibernating...
But for us at Contentious Character, we like to keep the juices flowing. As they say, you can stop when you're dead.
So we're inviting you to our winery for a winter of indulgence via good food, great wine and excellent company by our roaring fire.
Here's what you can expect from us this July: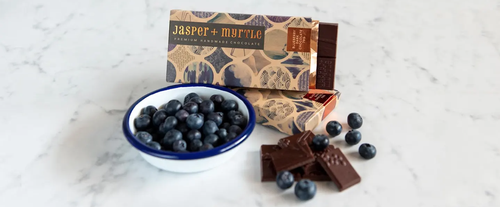 Sunday 11 July (as well as 25 July, 15 August and 29 August)
Wine and chocolate go hand in hand.
Like, literally, you could have a glass of our award-winning cool-climate wine in one hand and a piece (or block) of Jasper & Myrtle's artisanal chocolate in the other!
Join us on these Sundays at either 11am or 4pm for our beloved wine & chocolate tastings.
Saturday 17 July
Or is cheese more your thing?
Well head this whey to our Holy Trinity workshop of cheesemaking, cooking, pairing…and feasting.
Make your own Mozzarella and Ricotta, guided by our Wee Jasper cheesemaker, Bridgette.
Graze on a tasting plate of Camembert, Blue Vein, and Harvati, all with paired wines. Then, enjoy a marinated Haloumi salad for lunch - and of course, something sweet to finish.
PS. Check out this raving review by RiotACT of one of our previous cheesemaking workshops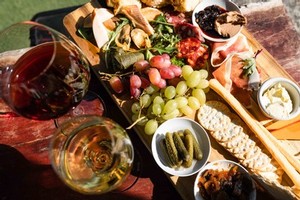 Saturday 24 July
CHRISTMAS HAS COME EARLY.
Who said we could only have roast turkey and pudding in December? Not us, thanks - we march to the beat of our drum.
And we're marching towards Christmas in July (for our 4th year too). Arrive to a red or white mulled wine followed by a 3-course dinner with options because there's sometimes no better gift than the gift of choice.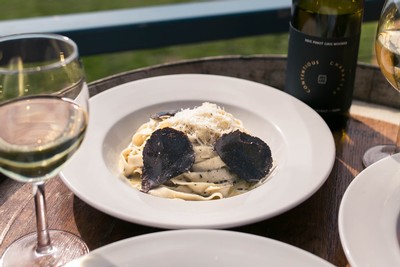 Saturday 31 July
With all the amazing events above, it's almost impossible to pick a favourite. Almost.
Our annual Truffle Gala is always incredibly delicious and luxurious with a 5-course dinner, classical music and a truffle talk.
If you love truffles, this night is NOT to be missed. There's really nothing else like it around.
So yeah, it's cold out there, that Canberra wind is as bone-chilling as ever and the sun is barely up before it goes down. But rug up, doll up and get ready to feast and indulge with us in the rolling hills of Wamboin.
Which event has got your name written all over it?
It's our favourite time of the year - truffle season!
What is it about these buried treasures that just get our feathers so truffled?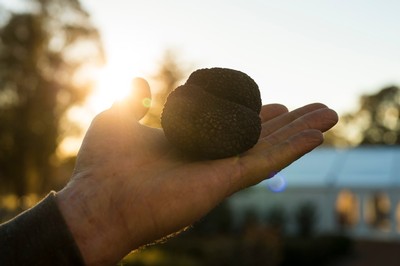 Firstly, that smell. It's unmistakeable. It's earthy, musky and a little bit sweet. For us, our winery is near the Kowen Forest which is Canberra's largest pine plantation and truffles remind us of the forest floor, thick with pine needles, after fresh rainfall. Like other exotic foods, truffles can be an acquired smell and taste but we for one, are addicted to them!
Secondly, their rarity just makes them oh-so-irresistable. Truffles are finicky to grow and they're very elusive, especially in the wild. They love to play hard to get (they're an aphrodisiac after all) and we're always up for the chase. By the way, did you know that truffles have a symbiotic relationship with their host trees? So truffles grow on the roots of trees like oak and hazelnut trees. The trees provide the truffles with sugar and the truffles provie the trees with extra water and nutrients. How cute is that?
Thirdly, truffles pair best with fatty foods, creating luxurious, decadent food experiences . Think butters, creams, chocolate, foie gras...and it's not a 'fatty food' but truffle + wine = match made in (our) heaven. At our Truffle Dog Hunt n Lunch, we'll be serving a pumpkin ravioli with sage butter and truffle, chicken breast with chestnut mushroom and truffle cream sauce and truffle-infused chocolate mousse (a collaboration with Jasper & Myrtle). Take the option to add on paired wines and you're in for a real treat of a day.
We're running this Truffle Dog Hunt demonstration (a peek into what a real hunt would be like) on Saturday 19 June, 26 June and 3 July.
Or go all into the truffle season and join us at our Annual Truffle Gala Dinner on Saturday 31 July. Join us for a FIVE-course dinner with paired wines. The mood will be set with classical music (it's quite an indulgent night after all) and there'll also be a truffle talk so you can ask everything you've ever wanted to know about these fascinating funghi.
Truffle season only comes around once a year so we look forward to diving right in with you for 2021.
PSA. Mother's Day is on Sunday 9 May 2021 and is just around the corner.
Because Mums are the real superheroes (especially since the Rona), we've got a few ways you can celebrate her, regardless of whether you find yourself in the Canberra wine district or not.

Mother's Day shopping fair
Over the Anzac Day long weekend (24-26 April), come by our winery in beautiful Wamboin for a Mother's Day shopping fair with free entry.
Sample a selection of Contentious wines, condiments and ketchups, Jasper & Myrtle's award-winning artisanal chocolate and cheeses and nibbles.
And if you like what you taste, purchase some for Mum with gift-wrapping available on-site to create bespoke hampers.
Mother's Day gift hampers
Want us to make gifting even easier?
Or separated from your Mum this Mother's Day but want to send her something special, delivered straight to her door (with shipping on us**)?
This Mother's Day, we're offering three types of gift hampers for Mum.
At 99 dollars, our hamper includes a bottle of our 2019 Rosé (Stop and Smell The Rosé), a large MOJO French Pear candle, a Loveshak Red Wine soap bar and a block of Jasper & Myrtle White Chocolate & Sour Cherries chocolate.
At 159 dollars, our hamper includes a bottle of our 2019 Rosé (Stop and Smell The Rosé), a large MOJO Wild Basil & Cucumber candle, a Loveshak Pink & Sparkling soap bar and two blocks of Jasper & Myrtle artisanal chocolate; White Chocolate & Sour Cherries and Orange Cinnamon & Cayenne Dark Chocolate. And there's more! Mum will also receive a jar of Contentious loose leaf tea and a boxed trio pack of Contentious condiments.
If you're feeling creative or if Mum's a wee bit fussy, you can even order a customised hamper. Simply let us know your budget then we'll contact you and help make your selections.
**We're offering free shipping on all Mother's Day hampers until 28 April
Mother's Day lunch
And finally, for the big day on Sunday 9 May, join us for Mother's Day lunch.
Mum will be greeted with a complimentary glass of sparkling because she's the VIP.
Then, choose to lunch à la carte or feast on our seasonal 4-course tasting menu of burrata, wild mushroom gnocchi, Korean-style beef short rib and your choice of dessert. If mum's a wine lover, add on paired wines for an afternoon she'll love.
We can even arrange for a gift to be placed on the table to surprise Mum on arrival. After booking, just give us a call and we'll take care of the rest.
In celebration of Riesling Day on 13 March, we thought we'd give you the lowdown on riesling wine from descriptions of sweet and dry rieslings, how to serve riesling wine including what to eat and pair it with and the state of riesling wine in Australia.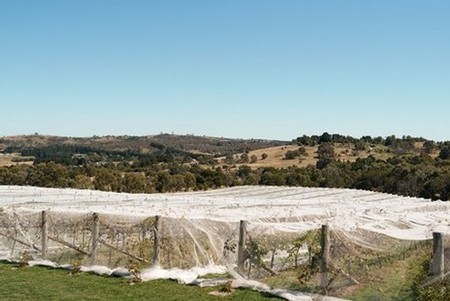 A quick history lesson on riesling wine
The first mention of riesling dates back to 1435 in Germany, though of course there's contention around that.
For centuries, Alsace in France and Australia have also produced premium rieslings.
What we do know for sure is that by the 1850s, riesling had become a very fashionable wine, thanks to its popularity with German nobility.
Riesling in Australia
Riesling came to Australia in the 19th century with the first planting at Camden Park near Penrith in New South Wales. It then spread throughout Australia, especially to South Australia in the hands and hearts of German settlers.
According to Wine Australia, riesling is one of the most underrated wines in Australia. However, as of late, it is definitely on the rise in popularity, as it was in the 1960s and 70s.
The two most popular riesling regions in Australia are the Clare and Eden Valleys in South Australia. Here, their riesling is bone-dry with distinctive lime, lemon and grapefruit flavours.
But of course, we find ourselves in the Canberra district! Australian cool-climate rieslings are dry and complex, typically associated with tight, crisp finishes.
You read that right - rieslings are not always sweet; they can be dry.
Sweet riesling vs dry riesling
The most common misconception about riesling is that it is always sweet - and that it always tastes like that sugary, white cask wine (which in our opinion, shouldn't really be called wine at all).
But riesling can also be dry and in fact, Australian cool-climate rieslings (i.e. the rieslings you'll find out of the Canberra wine region) are known for their crispness. Dry rieslings can have notes of apple, pear, lemon, pineapple and even rockmelon.
Our 2015 Riesling, for example, is a bright riesling, with abundant fresh citrus aroma, and crisp finish, thanks to an acidity that's friendly, but firm.
Sweet rieslings typically have flavours of fruit and a lasting, sweet honey finish.
But rieslings can't just be broken down into 'dry' and ' sweet'. The riesling grape is very versatile; it is complex and has excellent ageing potential where the flavours can mellow and develop over time. In fact, it's one of the few white wines that can be aged for decades. Knowing this, it shouldn't surprise you that rieslings can be also be dessert wines or sparkling wines!
Serving and pairing riesling wine
Because riesling wine is so diverse (thanks to its high acidity), it comes down to selecting the right riesling to pair with your meal.
Dry rieslings are great with seafood, curries and other Asian dishes.
Sweet and aged rieslings match deliciously with rich cheeses, salty cheeses and even fruity desserts.
So to celebrate Riesling Day, start with a crisp, dry riesling and a zesty ceviche. Our 2017 Riesling, 'Come The Raw Prawn', features lemon and lime with a floral twist combined with a crunch green apple texture and hints of tangerine make for an enjoyable finish. As the name suggests, our 2017 Riesling works wonderfully with prawns or any seafood for that matter.
Then, follow up with a richer, dry riesling with an Asian dish (think a curry or even Korean fried chicken). Our 2019 Riesling, 'Crisp In Your Cakehole', is a delicate riesling with citrus and cut hay aromas, underpinned by rich lemon flavours; we love to match it with an Indian fish curry!
Finally, finish off with an aged riesling with a cheese and fruit platter. Our 2005 and 2006 Founder Museum Collection rieslings were showered with awards and are now drinking their best, with rich honey-lemon flavours.
And if you're looking for a rounder Australian riesling, here are our tasting notes for our 2020 Riesling, 'No Riesling to Worry'.
As a general rule of thumb, serve your riesling at 8 degrees.
Contentious Character rieslings
If you've been paying attention, you might've noticed that our riesling range spans over a decade, from 2005 to 2020!
Come visit our cellar door and book a wine tasting to sample some of our Australian cool-climate rieslings and experience the best of the Canberra wine region.
Here's to a delicious Riesling Day on 13 March!
BOOK WINE TASTINGS, LUNCH & DINNER
Unless you're James Halliday or a proper wine snob, you've probably got the wrong ideas about wine.
Because we like to be contentious here at Contentious Character, one of Canberra's wineries serving up the best Australian wine (no contention about that), we're going to explore some of the things people often get wrong.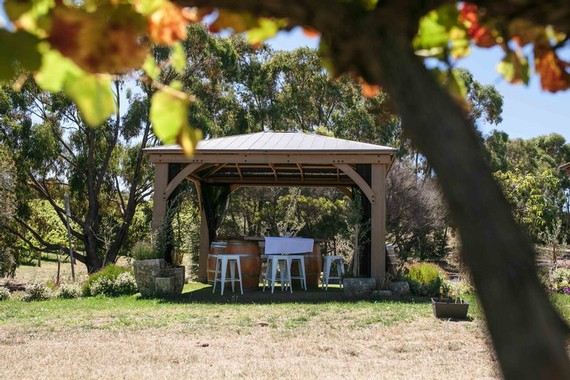 PICTURED: One of our two pavilions; perfect for your small group celebrations. Book here.
"Wine is bad for you"
Says who? It turns out lots of people say this...but that doesn't mean they're right.
Hippocrates, famous for his early medical practices, recommended wine as part of a healthy diet. He said you could use it to disinfect wounds, ease diarrhoea and reduce the pain of childbirth.
In 1991, a study found regular red wine drinkers had better cholesterol. According to the French Paradox, French people can eat more saturated fat, thanks to the resveratrol in red wine. In 2008, resveratrol was said to protect against dementia, fight obesity and Alzheimer's, lower lung cancer risk, and keep hearts "young".
The British Heart Foundation and University of Cambridge upset the wine cart when they said drinking ten glasses of wine a week can shorten life expectancy by two years.
Meanwhile, a Spanish man then died in northwest Spain after a lifetime of drinking four bottles of homemade red wine every day...at 107 years old. He never drank water.
The answer is clear: make up your own mind.
"White goes with fish, red goes with steak"
This is one of those aphorisms that get wheeled out in restaurants all over Australia and perhaps the world. We may even learn it slightly before we're even old enough to drink the stuff. But it's wrong! It's out of date.
You have to look at the cooking technique and the sauce before choosing a wine – not just whether it's fish or meat. For instance, steak tartare or steak with béarnaise sauce goes very well with white Burgundy.
Another thing to consider is texture. If a fish is grilled, the smokiness passed on in the fish is often best paired with a red.
It is also a matter of complementarity. A seared tuna steak with red wine goes with a Pinot Noir and a meat carpaccio with capers and citrus goes with Sauvignon Blanc.
So just don't say it again. It makes you look old.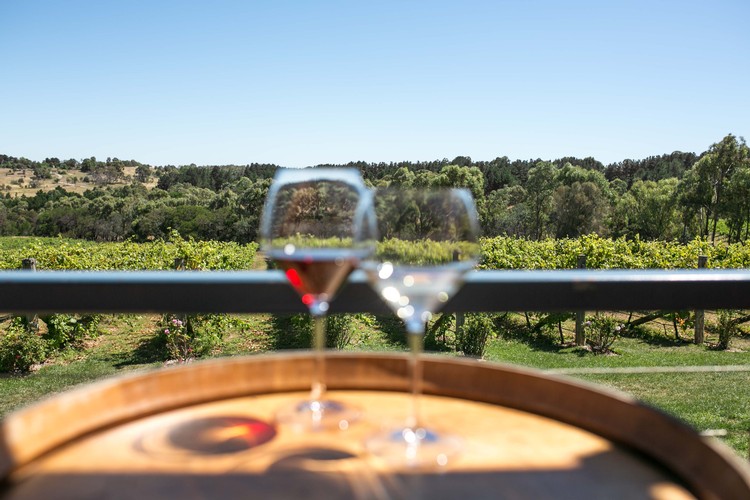 PICTURED: Our vines looking lush!
"Organic wine is healthier"
The debate about organic versus non-organic rages in the food sector so why not the wine industry? You've seen those wholesome looking bottles of organic wine - you know the type where even the labels look healthy enough to eat.
The arguments for organic wine are much the same as for organic food: fewer pesticides and heavy metals, more omega-3 fatty acids, more antioxidants, no antibiotics or synthetic hormones.
But the real "problem" in conventional wine is sulphites. These are preservatives added to wine to prevent it from spoiling, oxidising or aging too quickly. Wine made with organic grapes can have sulphites up to 100 ppm, but conventional wine can have up to 350 ppm.
Unfortunately, it's difficult to make wine that smells, looks or tastes like what people demand, without them. Very few people are actually allergic to them.
In this case, rather than be contentious, we take a balanced approach to the addition of sulphites.
"Only men like big reds"
It's true; some men like big reds, because they enjoy admitting to liking things that are big.
But there are women who like them too. And the converse; that women only like soft, subtle reds like pinots or whites like chardonnay, is wrong too. Apparently, women have more sensitive taste buds so they tend not to like highly tannic or highly acidic wines.
Men like to show off and boast with highly regarded and competition-winning wines. Now that is surprising (sense our sarcasm here please).
At Contentious Character, we don't succumb to these generalisations. We know all types of people like all kinds of wine. So that's why we grow all kinds of wine for all kinds of characters.
"Canberra wine is only for politicians"
Wow, you did not! How contentious. Our Australian wine at Contentious Character is too good to waste on just one small segment of the population, no matter how discerning they are. We are very inclusive and we welcome everyone, even if everything they think about wine is wrong!
Book a wine tasting, lunch or dinner today and come taste our wines and share our views (of the rolling hills of Wamboin - not political!)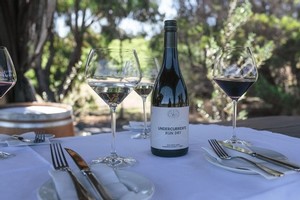 When looking for wine gifts and local Canberra produce gifts, Contentious Character have got you covered for your 2020 Christmas gift ideas. Make it a day with your Christmas shopping and book a wine tasting at our cellar door in Wamboin or order online (we ship Australia-wide).
Here are 8 Christmas present recommendations, brought to you by us Contentious Characters:
For the guzzler of reds and ONLY reds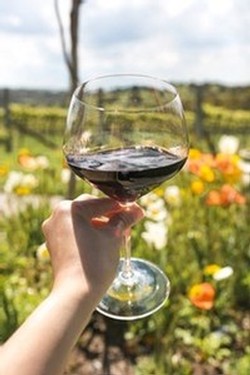 The perfect wine gift for the red wine drinker is a bottle (or case - imagine that under the tree on Christmas Day) of our 2018 Merlot. This is a full bodied wine with dominant plum and black cherry flavours with hints of graphite and earthy undertones. (PS. Our 2018 Merlot also makes for a respectable corporate gift for your colleagues and clients.)
For the one who can never make up their mind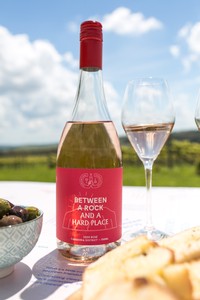 Red wine? White wine? There's always one mate who can't decide. They're 'Between A Rock And A Hard Place' which so happens to be the name of our 2020 Rose. This Rose throws flavours of strawberries and cream with hints of vanilla and a touch of sweetness. This is the wine we'll be sipping on Christmas Eve to get ready for the big day.
For the one who likes to push the envelope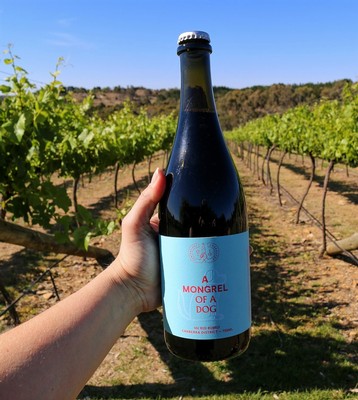 Our red bubbly is an intriguing blend of red vintages from 2008 to 2014, fermented in oak barrels and freshly carbonated. It's 'A Mongrel Of A Dog' and is definitely for those who love something different (but damn delicious). This sparkling red will get the party started these holidays (and it's also a great one for Christmas morning before the mother-in-law arrives…).
For the one who puts tomato sauce on everything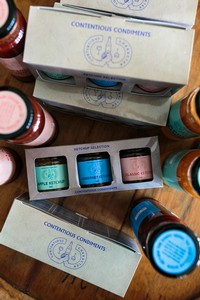 On steaks, on pies, on bread. On everything including whatever you're feasting on on Christmas Day. Our Cabernet Ketchup is housemade, big and rich and imbued with our red wine. Our Classic Ketchup is a great all-rounder. Both available in full-size at 10 dollars or in a gift pack for 20 dollars (which also includes our Apple Ketchup which goes deliciously with pork).
For the one who loves a good wine label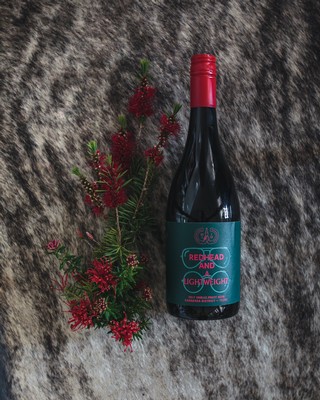 'Redhead And A Lightweight' is our 2017 Shiraz/ Pinot. We love it for its red fruit with spicy overtures on the nose and its fruity mouthfeel with good grip and length. But LOTS of our customers simply love the name and label. If you've got a redhead in the family, this one is a must-have for Christmas day laughs and conversations.
For the one who will drink anything (and a lot of it)
It's BEEN a year. And we wouldn't have gotten through it without wine (and each other, of course). Gift a mixed case of our newest wines as a Christmas present; 3x 2020 Riesling, 3 x 2020 Rose, 3 x V Red Bubbly and 3 x Reds (1 each of 2018 Merlot, 2017 Shiraz/Pinot Noir and 2018 Pinot Noir) and receive 15% off, free shipping AND a bonus Trio Boxed Contentious Ketchup Gift Pack. That should keep them happy!
BUY NOW WITH DISCOUNT, FREE SHIPPING + BONUS
You don't need to add the bonus Gift Pack to cart- we'll do that all for you when getting your gift ready!
For the one who's always after novel experiences
Treat your loved one to a day in the rolling hills of Wamboin. We offer three experiences;
Private Tasting with the Winemaker himself with a 3-course Lunch; tour the winery with a premium tasting held by the winemaker himself before a sumptuous 3-course lunch AND take home two of your favourite bottles
Indulgence Tasting; 12 wines paired with a gourmet cheese board featuring our housemade condiments. Some vintages here are up to 15 years old!
Vintage Wine Tasting with 3-course Lunch; taste a range of recent and aged vintages followed by a 3-course meal for two with a glass of paired wine
And the gift of choice...
And of course there's always that tricky family member who you can never find the right present for. Give them the gift of choice with a Contentious Character Gift Card that can be spent at our cellar door, shop, restaurant or online.
2020's been unprecedented (is that the millionth time that word's been used this year?) so all the more reason to love on and spoil each other this Christmas. We wish you a safe and happy holiday season and we thank you for supporting local this year and beyond.