PSA. Mother's Day is on Sunday 9 May 2021 and is just around the corner.
Because Mums are the real superheroes (especially since the Rona), we've got a few ways you can celebrate her, regardless of whether you find yourself in the Canberra wine district or not.

Mother's Day shopping fair
Over the Anzac Day long weekend (24-26 April), come by our winery in beautiful Wamboin for a Mother's Day shopping fair with free entry.
Sample a selection of Contentious wines, condiments and ketchups, Jasper & Myrtle's award-winning artisanal chocolate and cheeses and nibbles.
And if you like what you taste, purchase some for Mum with gift-wrapping available on-site to create bespoke hampers.
Mother's Day gift hampers
Want us to make gifting even easier?
Or separated from your Mum this Mother's Day but want to send her something special, delivered straight to her door (with shipping on us**)?
This Mother's Day, we're offering three types of gift hampers for Mum.
At 99 dollars, our hamper includes a bottle of our 2019 Rosé (Stop and Smell The Rosé), a large MOJO French Pear candle, a Loveshak Red Wine soap bar and a block of Jasper & Myrtle White Chocolate & Sour Cherries chocolate.
At 159 dollars, our hamper includes a bottle of our 2019 Rosé (Stop and Smell The Rosé), a large MOJO Wild Basil & Cucumber candle, a Loveshak Pink & Sparkling soap bar and two blocks of Jasper & Myrtle artisanal chocolate; White Chocolate & Sour Cherries and Orange Cinnamon & Cayenne Dark Chocolate. And there's more! Mum will also receive a jar of Contentious loose leaf tea and a boxed trio pack of Contentious condiments.
If you're feeling creative or if Mum's a wee bit fussy, you can even order a customised hamper. Simply let us know your budget then we'll contact you and help make your selections.
**We're offering free shipping on all Mother's Day hampers until 28 April
Mother's Day lunch
And finally, for the big day on Sunday 9 May, join us for Mother's Day lunch.
Mum will be greeted with a complimentary glass of sparkling because she's the VIP.
Then, choose to lunch à la carte or feast on our seasonal 4-course tasting menu of burrata, wild mushroom gnocchi, Korean-style beef short rib and your choice of dessert. If mum's a wine lover, add on paired wines for an afternoon she'll love.
We can even arrange for a gift to be placed on the table to surprise Mum on arrival. After booking, just give us a call and we'll take care of the rest.

From Canberra Wines:
Grapes have been grown and wine made in the Canberra District since the 1840s, although in common with a number of other smaller Australian wine regions, the industry went into decline for several decades from the turn of the 20th Century.
Interest in viticulture and winemaking in the Canberra District was rekindled in the 1970s and 1980s with a number of what are now highly regarded vineyards and wineries. Our district, which spreads across Canberra, Hall, Murrumbateman, Yass, Bungendore, Lake George, Wamboin, Gundaroo and Collector has grown considerably over the past 50 years it is now estimated that there are some 140 vineyards with approximately 450 hectares under vine, and upwards of 40 cellar doors.
Canberra District Wine Week 2021, is not only a special year of celebration due to a disastrous 2020, but we're recognising and celebrating 50 years of the first plantings of vines and subsequent production of wine within the district, cementing our place as a premium cool climate wine region in Australia.
And we want you to celebrate with us.
Here is how you can celebrate Canberra Wine Week at Contentious Character:
Join us for an Indulgence Wine Tasting experience with a 2-course meal
Over the weekend of 20-21 March and 27-28 March, enjoy an intimate group Indulgence Wine Tasting experience, hosted by a Contentious Character, followed by a 2-course lunch or dinner.
You'll be joined by no more than 3 other couples. Wines will be curated for the group and drawn from the Founders Museum Collection, our unique collection of old world style aged vintages as well as from the Contentious Character range of new world styles.
Our Indulgence Wine Tasting was recently launched with new matched food elements as well - an experience unique to our winery and kitchen! You can check out the tastings menu here.
When it comes to lunch or dinner, we offer a wide range of tempting fresh local produce in a blend of traditional Italian flair with contemporary Australian. Our food is chosen to complement our Canberran cool-climate wines beautifully - and yes, you'll also get a glass of wine of your choice with your lunch or dinner.
Wine Tastings only
Are you all about the wine only? We're hosting Indulgence Wine Tastings on their own for Canberra Wine Week as well.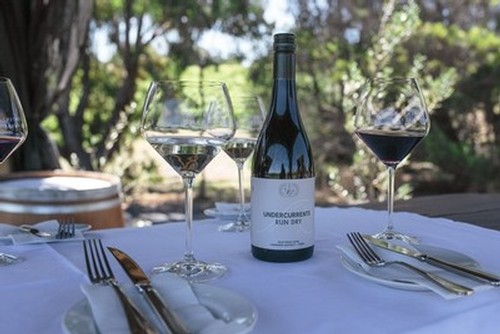 Experience the best of Contentious Character by traversing styles and vintages across 12 wines with newly matched food elements including jamon, salami, cheddarbelle cheese and housemade pate. You can check out the tastings menu here.
Available Saturday 20 to Monday 22 March and Thursday 25 to Sunday 28 March.
We are so proud to be part of the Canberra Wine District.
Hope to see you at our beautiful winery in the rolling hills of Wamboin.
In celebration of Riesling Day on 13 March, we thought we'd give you the lowdown on riesling wine from descriptions of sweet and dry rieslings, how to serve riesling wine including what to eat and pair it with and the state of riesling wine in Australia.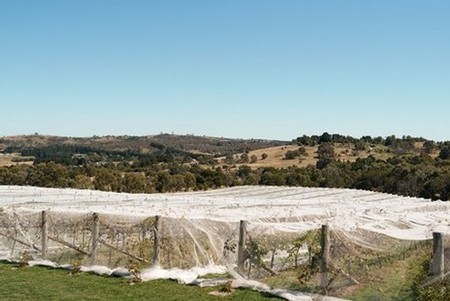 A quick history lesson on riesling wine
The first mention of riesling dates back to 1435 in Germany, though of course there's contention around that.
For centuries, Alsace in France and Australia have also produced premium rieslings.
What we do know for sure is that by the 1850s, riesling had become a very fashionable wine, thanks to its popularity with German nobility.
Riesling in Australia
Riesling came to Australia in the 19th century with the first planting at Camden Park near Penrith in New South Wales. It then spread throughout Australia, especially to South Australia in the hands and hearts of German settlers.
According to Wine Australia, riesling is one of the most underrated wines in Australia. However, as of late, it is definitely on the rise in popularity, as it was in the 1960s and 70s.
The two most popular riesling regions in Australia are the Clare and Eden Valleys in South Australia. Here, their riesling is bone-dry with distinctive lime, lemon and grapefruit flavours.
But of course, we find ourselves in the Canberra district! Australian cool-climate rieslings are dry and complex, typically associated with tight, crisp finishes.
You read that right - rieslings are not always sweet; they can be dry.
Sweet riesling vs dry riesling
The most common misconception about riesling is that it is always sweet - and that it always tastes like that sugary, white cask wine (which in our opinion, shouldn't really be called wine at all).
But riesling can also be dry and in fact, Australian cool-climate rieslings (i.e. the rieslings you'll find out of the Canberra wine region) are known for their crispness. Dry rieslings can have notes of apple, pear, lemon, pineapple and even rockmelon.
Our 2015 Riesling, for example, is a bright riesling, with abundant fresh citrus aroma, and crisp finish, thanks to an acidity that's friendly, but firm.
Sweet rieslings typically have flavours of fruit and a lasting, sweet honey finish.
But rieslings can't just be broken down into 'dry' and ' sweet'. The riesling grape is very versatile; it is complex and has excellent ageing potential where the flavours can mellow and develop over time. In fact, it's one of the few white wines that can be aged for decades. Knowing this, it shouldn't surprise you that rieslings can be also be dessert wines or sparkling wines!
Serving and pairing riesling wine
Because riesling wine is so diverse (thanks to its high acidity), it comes down to selecting the right riesling to pair with your meal.
Dry rieslings are great with seafood, curries and other Asian dishes.
Sweet and aged rieslings match deliciously with rich cheeses, salty cheeses and even fruity desserts.
So to celebrate Riesling Day, start with a crisp, dry riesling and a zesty ceviche. Our 2017 Riesling, 'Come The Raw Prawn', features lemon and lime with a floral twist combined with a crunch green apple texture and hints of tangerine make for an enjoyable finish. As the name suggests, our 2017 Riesling works wonderfully with prawns or any seafood for that matter.
Then, follow up with a richer, dry riesling with an Asian dish (think a curry or even Korean fried chicken). Our 2019 Riesling, 'Crisp In Your Cakehole', is a delicate riesling with citrus and cut hay aromas, underpinned by rich lemon flavours; we love to match it with an Indian fish curry!
Finally, finish off with an aged riesling with a cheese and fruit platter. Our 2005 and 2006 Founder Museum Collection rieslings were showered with awards and are now drinking their best, with rich honey-lemon flavours.
And if you're looking for a rounder Australian riesling, here are our tasting notes for our 2020 Riesling, 'No Riesling to Worry'.
As a general rule of thumb, serve your riesling at 8 degrees.
Contentious Character rieslings
If you've been paying attention, you might've noticed that our riesling range spans over a decade, from 2005 to 2020!
Come visit our cellar door and book a wine tasting to sample some of our Australian cool-climate rieslings and experience the best of the Canberra wine region.
Here's to a delicious Riesling Day on 13 March!
BOOK WINE TASTINGS, LUNCH & DINNER
Unless you're James Halliday or a proper wine snob, you've probably got the wrong ideas about wine.
Because we like to be contentious here at Contentious Character, one of Canberra's wineries serving up the best Australian wine (no contention about that), we're going to explore some of the things people often get wrong.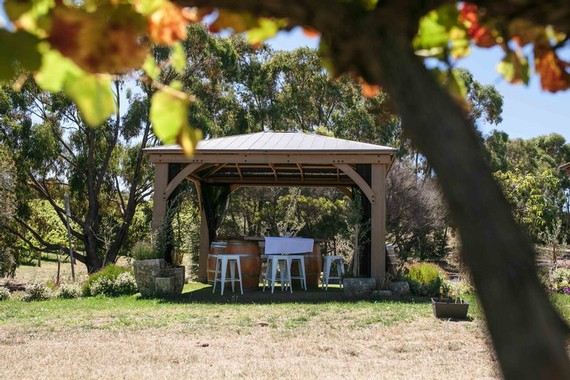 PICTURED: One of our two pavilions; perfect for your small group celebrations. Book here.
"Wine is bad for you"
Says who? It turns out lots of people say this...but that doesn't mean they're right.
Hippocrates, famous for his early medical practices, recommended wine as part of a healthy diet. He said you could use it to disinfect wounds, ease diarrhoea and reduce the pain of childbirth.
In 1991, a study found regular red wine drinkers had better cholesterol. According to the French Paradox, French people can eat more saturated fat, thanks to the resveratrol in red wine. In 2008, resveratrol was said to protect against dementia, fight obesity and Alzheimer's, lower lung cancer risk, and keep hearts "young".
The British Heart Foundation and University of Cambridge upset the wine cart when they said drinking ten glasses of wine a week can shorten life expectancy by two years.
Meanwhile, a Spanish man then died in northwest Spain after a lifetime of drinking four bottles of homemade red wine every day...at 107 years old. He never drank water.
The answer is clear: make up your own mind.
"White goes with fish, red goes with steak"
This is one of those aphorisms that get wheeled out in restaurants all over Australia and perhaps the world. We may even learn it slightly before we're even old enough to drink the stuff. But it's wrong! It's out of date.
You have to look at the cooking technique and the sauce before choosing a wine – not just whether it's fish or meat. For instance, steak tartare or steak with béarnaise sauce goes very well with white Burgundy.
Another thing to consider is texture. If a fish is grilled, the smokiness passed on in the fish is often best paired with a red.
It is also a matter of complementarity. A seared tuna steak with red wine goes with a Pinot Noir and a meat carpaccio with capers and citrus goes with Sauvignon Blanc.
So just don't say it again. It makes you look old.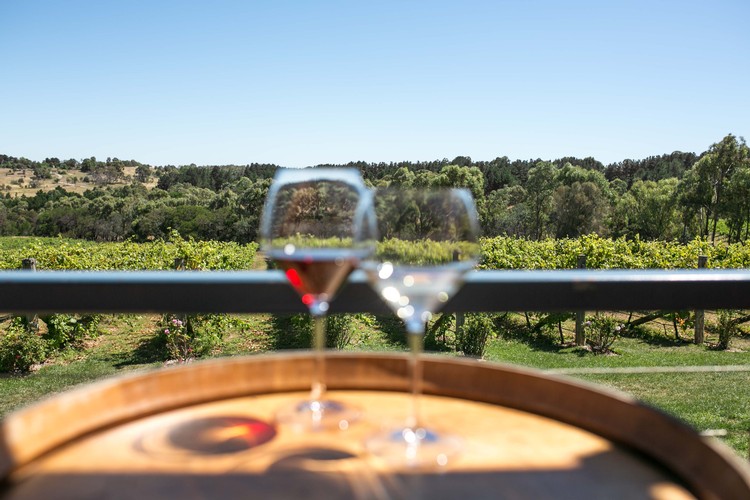 PICTURED: Our vines looking lush!
"Organic wine is healthier"
The debate about organic versus non-organic rages in the food sector so why not the wine industry? You've seen those wholesome looking bottles of organic wine - you know the type where even the labels look healthy enough to eat.
The arguments for organic wine are much the same as for organic food: fewer pesticides and heavy metals, more omega-3 fatty acids, more antioxidants, no antibiotics or synthetic hormones.
But the real "problem" in conventional wine is sulphites. These are preservatives added to wine to prevent it from spoiling, oxidising or aging too quickly. Wine made with organic grapes can have sulphites up to 100 ppm, but conventional wine can have up to 350 ppm.
Unfortunately, it's difficult to make wine that smells, looks or tastes like what people demand, without them. Very few people are actually allergic to them.
In this case, rather than be contentious, we take a balanced approach to the addition of sulphites.
"Only men like big reds"
It's true; some men like big reds, because they enjoy admitting to liking things that are big.
But there are women who like them too. And the converse; that women only like soft, subtle reds like pinots or whites like chardonnay, is wrong too. Apparently, women have more sensitive taste buds so they tend not to like highly tannic or highly acidic wines.
Men like to show off and boast with highly regarded and competition-winning wines. Now that is surprising (sense our sarcasm here please).
At Contentious Character, we don't succumb to these generalisations. We know all types of people like all kinds of wine. So that's why we grow all kinds of wine for all kinds of characters.
"Canberra wine is only for politicians"
Wow, you did not! How contentious. Our Australian wine at Contentious Character is too good to waste on just one small segment of the population, no matter how discerning they are. We are very inclusive and we welcome everyone, even if everything they think about wine is wrong!
Book a wine tasting, lunch or dinner today and come taste our wines and share our views (of the rolling hills of Wamboin - not political!)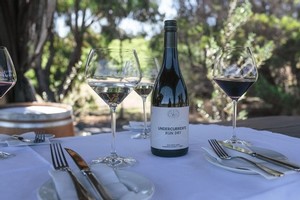 When looking for wine gifts and local Canberra produce gifts, Contentious Character have got you covered for your 2020 Christmas gift ideas. Make it a day with your Christmas shopping and book a wine tasting at our cellar door in Wamboin or order online (we ship Australia-wide).
Here are 8 Christmas present recommendations, brought to you by us Contentious Characters:
For the guzzler of reds and ONLY reds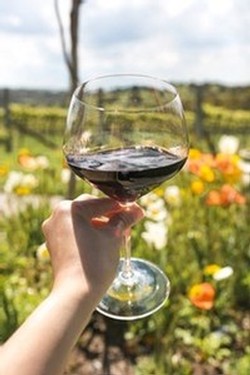 The perfect wine gift for the red wine drinker is a bottle (or case - imagine that under the tree on Christmas Day) of our 2018 Merlot. This is a full bodied wine with dominant plum and black cherry flavours with hints of graphite and earthy undertones. (PS. Our 2018 Merlot also makes for a respectable corporate gift for your colleagues and clients.)
For the one who can never make up their mind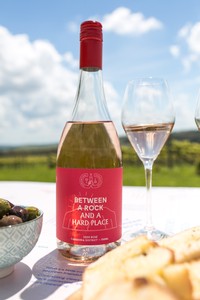 Red wine? White wine? There's always one mate who can't decide. They're 'Between A Rock And A Hard Place' which so happens to be the name of our 2020 Rose. This Rose throws flavours of strawberries and cream with hints of vanilla and a touch of sweetness. This is the wine we'll be sipping on Christmas Eve to get ready for the big day.
For the one who likes to push the envelope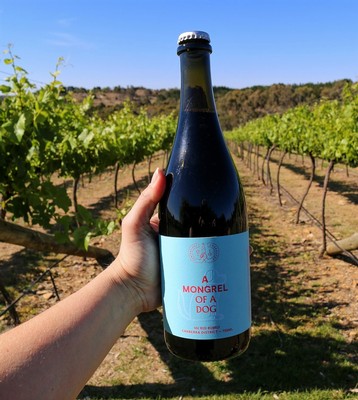 Our red bubbly is an intriguing blend of red vintages from 2008 to 2014, fermented in oak barrels and freshly carbonated. It's 'A Mongrel Of A Dog' and is definitely for those who love something different (but damn delicious). This sparkling red will get the party started these holidays (and it's also a great one for Christmas morning before the mother-in-law arrives…).
For the one who puts tomato sauce on everything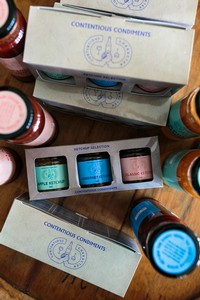 On steaks, on pies, on bread. On everything including whatever you're feasting on on Christmas Day. Our Cabernet Ketchup is housemade, big and rich and imbued with our red wine. Our Classic Ketchup is a great all-rounder. Both available in full-size at 10 dollars or in a gift pack for 20 dollars (which also includes our Apple Ketchup which goes deliciously with pork).
For the one who loves a good wine label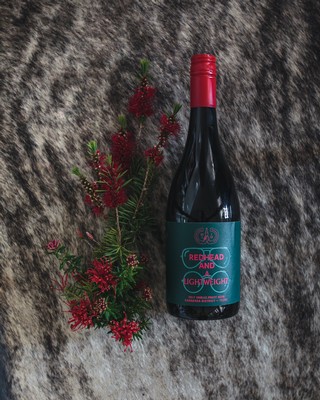 'Redhead And A Lightweight' is our 2017 Shiraz/ Pinot. We love it for its red fruit with spicy overtures on the nose and its fruity mouthfeel with good grip and length. But LOTS of our customers simply love the name and label. If you've got a redhead in the family, this one is a must-have for Christmas day laughs and conversations.
For the one who will drink anything (and a lot of it)
It's BEEN a year. And we wouldn't have gotten through it without wine (and each other, of course). Gift a mixed case of our newest wines as a Christmas present; 3x 2020 Riesling, 3 x 2020 Rose, 3 x V Red Bubbly and 3 x Reds (1 each of 2018 Merlot, 2017 Shiraz/Pinot Noir and 2018 Pinot Noir) and receive 15% off, free shipping AND a bonus Trio Boxed Contentious Ketchup Gift Pack. That should keep them happy!
BUY NOW WITH DISCOUNT, FREE SHIPPING + BONUS
You don't need to add the bonus Gift Pack to cart- we'll do that all for you when getting your gift ready!
For the one who's always after novel experiences
Treat your loved one to a day in the rolling hills of Wamboin. We offer three experiences;
Private Tasting with the Winemaker himself with a 3-course Lunch; tour the winery with a premium tasting held by the winemaker himself before a sumptuous 3-course lunch AND take home two of your favourite bottles
Indulgence Tasting; 12 wines paired with a gourmet cheese board featuring our housemade condiments. Some vintages here are up to 15 years old!
Vintage Wine Tasting with 3-course Lunch; taste a range of recent and aged vintages followed by a 3-course meal for two with a glass of paired wine
And the gift of choice...
And of course there's always that tricky family member who you can never find the right present for. Give them the gift of choice with a Contentious Character Gift Card that can be spent at our cellar door, shop, restaurant or online.
2020's been unprecedented (is that the millionth time that word's been used this year?) so all the more reason to love on and spoil each other this Christmas. We wish you a safe and happy holiday season and we thank you for supporting local this year and beyond.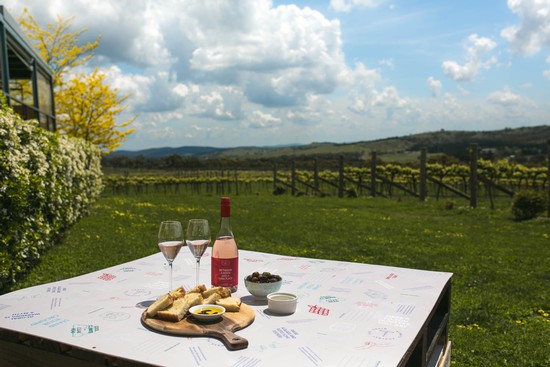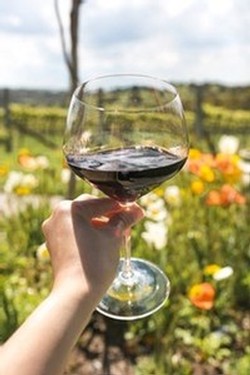 There are four of us at Contentious Character and, in some ways, we're like a blended family ourselves. The two couples bring their own special qualities to the blend. And, unfortunately, also some traits we're not quite so proud of but it keeps things interesting here at our vineyard in the Canberra region.
Cabernet Sauvignon is a happy blended family of grapes - but it happened all by itself. Back in the 1600s, the Cabernet Franc and Sauvignon Blanc had a dangerous liaison in Bordeaux and produced a child. If someone had not thoughtfully taken a cutting, the blend would have disappeared altogether. And what a shame that would've been; a world without the 'king of grapes'.
Today, Cabernet Sauvignon is probably the most loved and popular red variety in the world (merlot drinkers might like to contest that).
The beginnings of cabsav in Australian wine
Cabernet Sauvignon first graced Australian soil in the 19th century with the oldest surviving vineyard being the Penfolds Block 42 in the Barossa, planted in 1885.
It is known affectionately in Australia as 'cabsav', even though cabsav sounds like a taxi with GPS or a dish with red sausages. The important thing is that we all know what we mean by it; it's a 'big, full-bodied bold red'.
The characteristics and profile of Cabernet Sauvignon
You may have heard of the Cabernet 'donut'. This refers to cabsav hitting the front of the palate with its fruit flavours before skipping to a lingering medium acidity and tannin on the back of the palate.
Here are some other words to describe cabsav (besdies "big, full-bodied bold red") at your next wine tasting so you can flaunt your oenophile knowledge:
COLOUR: typically darker and deeper than a Merlot
FRUIT: Black cherry, black currant and blackberry
OTHER: Black pepper, cedar, licorice, tobacco, vanilla
OAK: Loves 9-18 months in French oak.
TANNIN: Medium
ACIDITY: Medium, can linger on the tongue
BLENDS: It blends well with Bordeaux wines Italian Supertuscans
And in fact, the style of Cabernet Sauvignon depends on how ripe the grapes are at harvest:
Unripe grapes are high in pyrazines, so they taste more like green capsicum and vegetation (and actually, cool-climate wineries like those in the Canberra region are known to produce cabsavs with this profile)

Ripe grapes are fruity with blackcurrants and black cherries and when overripe, can taste jammy
"What does cabsav go with?"
Many people will say that cabsav begs to be paired with food, because it is heavier wine. If you're sharing our view from here in the Canberra region, we think it pairs well with our woodfired mushroom pizza (add tomato sauce for a REALLY good time). Cabernet Sauvignon also goes with a juicy marinated ribeye steak.
This is because cabsavs are generally quite complex wines so they go well with foods that are high in fats and that 'umami' flavour which roughly translates to a 'pleasant savoury flavour' (hence why mushrooms and red meat are our go-to's).
Which wine regions are known for their Cabernet Sauvignon?
This happily blended family is the world's most widely planted grape. This is likely due to its strong, hardy nature, thanks to its thick skin and the fact it ripens later in the vintage to avoid frost and rot. It is an adaptable grape that even grows well in a desert (though we'd never call the Canberra region that!).
Look for cabsav from South America, Lebanon, Long Island, New York and Chile. When it comes to Australian wine, you can find complex and subtle cabsav in the Coonawarra, Margaret River, Hilltops in NSW and, of course, Canberra (specifically in the rolling hills of Wamboin).
The most expensive cabsav would have set you back a cool half-a-million US dollars at auction. It's a Screaming Eagle 1992 from the famous Napa Valley. One wine connoisseur described it as "exceptionally impressive", and we are sure he meant the wine...
One contentious character was actually served cabsav at his inauguration. We're talking about none other than Donald Trump. He was fortunate enough to be poured the Delicato Black Stallion 2012 Limited Release (again from the Napa Valley). But it was wasted on him: Donald Trump, like George Bush, is teetotal.
Unlike Trump, Cabernet Sauvignon is a variety that can age gracefully for many decades.
At Contentious Character, we've taken our blended family a little further. We blend our cabsav with Merlot (and evenwith a hint of Shiraz) and our latest release makes for quite the sumptuous drink. So the next time you're in the Canberra region, come out to the rolling hills of Wamboin and enjoy a tasting at our cellar door (wine tasting menu here).
As we publish this, Christmas is next month. *Jaw drop*. It feels like we literally just took down the tree but then again, it also feels like we're stuck in March so who really cares! What we should care about are the Christmas parties. More than any year before, we all need a Christmas party that'll get us feeling jolly and that'll warm our hearts and stomachs. Well, look no further. We're ready to have you.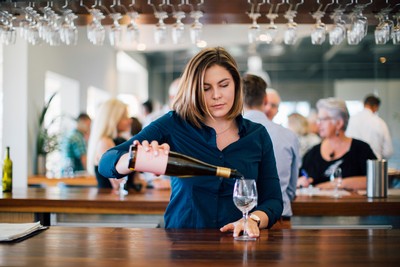 A fellow vigneron and old friend of mine, who happens to be French, once arrogantly said to me, 'Wine Awards are like haemorrhoids, sooner or later everyone gets one'.
I never thought much of it until we signed the papers to buy Lambert Vineyards and launched Contentious Character. Since then I've noticed many wineries cover their bottles in stickers pronouncing they've won this or that gold, silver or bronze.
And then the emails started coming in with invitations; invitations to enter international shows, national shows, state shows, city shows like the Sydney Royal Wine show, regional shows, small vigneron shows, cool climate shows, fortified wine shows, gender shows like the Australian Wine Women of the Year and the Young Gun of Wine awards and varietal shows like the Canberra International Riesling Challenge. In fact, there are over 100 shows in Australia alone.
HOW THE AUSSIES SCORE
The Australian system of medals and trophies awards wines out of 20 points. Only one trophy a year is awarded, making it a real winner. But medals are not like the Olympic gold, silver, bronze system. They are more like school grading; any wine that scores over the baseline earns a gold, silver or bronze medal. A bronze medal on a bottle of wine doesn't mean it's the third best wine in its category; it just means the judges found it drinkable.
Classes are another thing. Shows can have hundreds of classes. Is a trophy for 'best shiraz under $10' class worth more than a gold medal in the 'best shiraz under $25' class? A double gold is when all judges agree the wine deserves a gold medal and the increasingly prevalent blue-gold medal indicates they judged the wine with food. This, to me, is the superior way to judge a wine!

It's important to keep in mind thought ath just because a bottle has no medal, trophy or points doesn't mean anything except it was never entered into a show. Judges at big shows taste hundreds of wines a day, so their palette could be muddied. 'Wine fatigue' means bigger, bolder wines are likely to win the top prizes so if you're a fan of softer, more elegant wine, medal winners might not suit your taste anyway.
HOW THE YANKS DO IT
The American system —Australian judges, James Halliday and Huon Hooke prefer it - sees wine ranked out of 100. This is why you'll see many wines advertised as having been awarded scores of 95+.
Here's how to interpret it:
Scores of 95 to 100 are highly recommended wines — 98 is fantastic
99 and 100 are rare, but occasionally awarded to particularly good vintages
Anything above 90 is still classed as outstanding
85 to 89 is very good
80 to 84 creates your baseline for a good wine, which you'll reach for again
75 to 79 is the condescending 'drinkable' category
Everything below is generally not recommended.
While some wineries will put their scores out of 100 on the bottle, they most likely won't bother unless it's over 90. This may be a better indicator of a recommended wine than the medal system.
With all this in mind, Contentious Character chose a select group of medal and point-based awards to enter as a starting point for our award journey. James Halliday Wine Companion was the first to pass judgement on four of our wines.
With the scores below, we're feeling chuffed enough to make a fuss like all the others. The detailed notes are available in the 2020 and 2021 Halliday Wine Companion.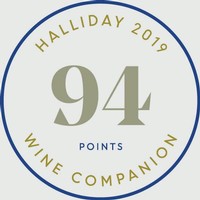 Some of our Founders Museum wines (as far back as the 2001 vintage) also won awards back in their heyday. And I've noted with interest some awarded wines are still drinking exceptionally well so perhaps there is something in the awards business after all.
Is that a little itch I feel down around my bottom?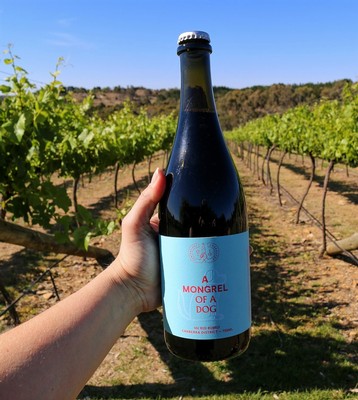 Imagine a glass of sparkling wine on your table, and there's something uplifting and chirpy about it. But not all that glitters is the colour of gold. Thanks to a Melbourne parliamentarian and a clever French winemaker, the first Australian sparkling burgundy found its way down Australian throats as early as 1881.
Since then, wine lovers all over the world now recognise sparkling red made with Shiraz as a true blue Aussie invention. Aussies didn't actually invent sparkling red wine – we can thank the Italians for giving us yet another pleasure for the senses. Particularly famous Italian sparklings are Lambrusco, from Emilia-Romagna or Lombardy and Brachetto d'Acqui, from Piedmont.
Remember bubbles are not just bubbles. Frizzante describes a bubbliness of 1-2 atmospheres of pressure in a bottle, compared to Champagne with 7 atmospheres and Lambrusco with 3-5 atmospheres.
LAMBRUSCO
Lambrusco is a name good enough to sing from a gondolier and describes both the grape and the wine. You may drink it sweet (dulce) or dry (secco), depending on your appetite. Dry Lambrusco is more rhubarb and sour cherry, and goes with meaty fare, like hamburgers or pepperoni pizza. Sweet Lambrusco tastes of boysenberries, blueberries and strawberries, so goes down well with a dessert of berry pie or waffles.
BRACHETTO D'ACQUI
Brachetto is the grape, coming from the d'Acqui region of Piedmont. Tasting of raspberry, blackberry, spice and cherries, it is sweet and, unlike our Australian red sparklings, low alcohol. If our sources are correct, it is best drunk with chocolate!
With a pile of Easter eggs, truffles and sundry bars leftover from Easter, this may be the time for all contentious characters to test that theory.
AUSTRALIAN SPARKLING SHIRAZ
While Shiraz is not an Australian grape, we can certainly claim sparkling Shiraz as our own. Instead of a mountain of berries, look for the spiciness of pepper and liquorice, with brown sugar and just a little blackberry.
Sparkling red is a great choice for breakfast with omelettes, fried eggs, beans or pastries. It's also a great accompaniment to a barbecue, but these days the famous Aussie barbecue is an endangered species. Remember its alcohol level is quite high and we don't want you drinking too much by yourself. (Drink contentiously. But responsibly.)
Contentious Character can supply you with A Mongrel of a Dog for your next intimate dinner. Our NV Red Blend Bubbly is an intriguing blend of red vintages from 2008 to 2014, all fermented in oak barrels to make a full-bodied red that's rich in complexity. It has a balance of sweetness and acidity which pairs well with your favourite spicy foods, and dark fruity flavours which pairs well with chocolate and coffee, all for a mere $30.
Put the sparkle back into your life. Better red than dead.
Our cellar door is open from 11 am to 8 pm Thursday to Sunday. Pop in and browse our exclusive cellar door deals, or order online through our website.
Our restaurant is also offering takeaway and dine-in options. Try the Founders Museum Wine and Feed Me Series, an unlimited tailored wine and food experience for 2hrs, bookings at 11:30, 2 pm, and 6 pm. $150 pp with discounts for locals and club members.
You can also dine in on our takeaway menu if seating is available. Call first to check. Walk-ins will be seated on first in, first-served basis. Takeaway will also still be available to order via the 'Book Now' tab on our website.
Murder Fifty Shades of Merlot in Your Cakehole
I COULD MURDER A MERLOT
Merlot is the biggest grape variety in all of France and 67 million French can't be wrong! Yet some people are still living in the dark ages of 2004. If you saw Miles in Sideways protest that he ain't gonna drink a fucking Merlot, you know what we mean. Merlot has come of age and, just like us, it really is time to grow up. Next time you thirst for a titillating, surprising glass of wine, then go ahead and murder a Merlot. Our Merlot is so delicious, like murder, it ought to be illegal.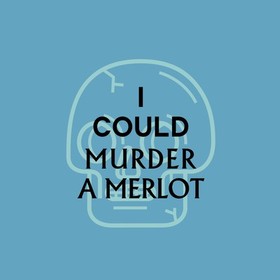 CRISP IN YOUR CAKEHOLE
We were talking about some of the big mouths in the wine industry and how no one knows everything about wine, not even middle aged men. Everyone's opinion is valid as long as we agree with it. But rather than say something crisp like, "shut your cakehole!", we decided to put something crisp into your cakehole. The obvious crispy wine is Riesling - with all that lemon and lime on the palette and nose, it's not contentious. But it's got to be the crispest wine for your cakehole.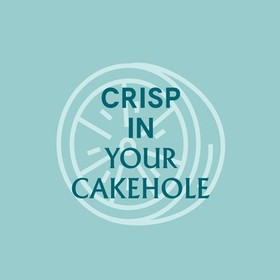 FIFTY SHADES OF GRAPE
When we say, "fifty shades", we could mean a wine that is very nuanced and subtle, or just our winemakers' heads. Our Pinot Gris has shades of white, red or blue grey, depending on whether you look at it first thing in the morning or after a few glasses. The 2015 erotic movie Fifty Shades of Grey, inspired us to name our very first Pinot Grigio, but we cannot guarantee the same effect.
A Note re Pinot Gris / Pinot Grigio - We often explain the origins of Pinot Gris and Pinot Grigio, its Italian counterpart in our cellar door. We will typically pick the version of the name that invokes the style of the wine, and in this case we decided this was our first Pinot Grigio.


Nobody needs reminding about the devastation caused by this Summer's bushfires. Luckily for us at Contentious Character, we managed to escape. But a few vineyards, like Tumbarumba not far from the ACT and others on the South Coast of NSW, were not so lucky. Even so, most have not escaped the constant swirl and sweep of smoke.
According to the Australian Wine Research Institute (AWRI), when vineyards and grapes are exposed to a lot of smoke, it can leave wine with an ashy, burnt or smoky taste. This is called "smoke taint". The official view is vintners should never release a wine they know to be affected by smoke taint. In fact, most vintners would rather pour their beloved wines down the sink than be hammered by an international wine critic further down the track.
But is this view a bit too, well, rigid?
What do these delicious foods have in common: peaches, tomatoes, potatoes, eggs, oysters, cheese, nuts and salmon? Clever chefs will guess right away – you can smoke them. But not many vintners think you can or should smoke your wines. Now that's contentious.
Nobody knows how much smoke a grape can handle before a wine tastes unpalatable. Grape variety makes a difference too – Sangiovese is affected more than cabernet sauvignon. Fresh smoke is better than stale smoke. Anyone who went into a pub in the old days before smokers got corralled into the gambling room, knows that stale smell.
We do know grapes can be affected quite early in their cycle, starting at least from the pea-berry stage, and that taint can also transfer through the leaves. Compounds from burnt wood bind with sugars in the grapes. These compounds get released during fermentation and over time, in their journey from barrel, to bottle, and potentially to your discerning taste buds.
One way to test them for smoke taint is through testing grapes and sampling early micro-ferments, which is good insurance and can help with planning for the vintage. Not everyone holds this view. Some think there is no correlation between a few wine samples and the final result.
One enterprising vintner even claims the smoky aroma and taste of tainted wine is not unlike single malt whisky, or using charred barrels to get a smoky taste into their wines.
We think there's a fine line between a subtle smoky taste and a wet ashtray.
Our view is a little more nuanced. Canberra has had its share of bushfires in the past and we know some of our grapes have probably been affected in some way or other, just as they have been by the drought and ever changing season – there are lots of variables still in play and how we work with the wine making we decide to undertake, will determine the 2020 vintage. We're challenged, excited and optimistic, that we'll still be able to bring some very interesting and high quality, wines, to market from 2020. Perhaps nature has, in its own way, contributed to the terroir. We might even be tempted to bring out a new label: Scomo's Smoky Chardy.
Then again, as we know, politics is all smoke and mirrors. You can trust Contentious Character to be a lot more honest.