13 April 2022 | Contentious Character
Crush, press, pump - vintage 22 is underway!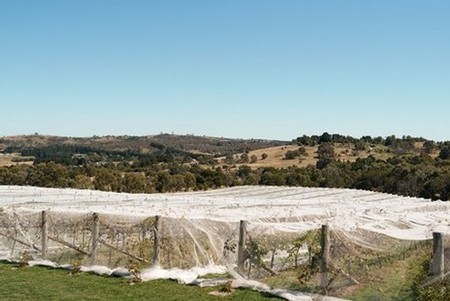 We're no stranger to ups and downs, with all the happenings of the last couple years, and our vintage 22 was full of them.
With a wet spring and less-than-optimal summer temperatures, it was definitely a challenging growing season.
But at Contentious Character, we don't turn away from trials and we were still able to work some of our magic, like we always do.
With our own vineyard in Wamboin, we were able to keep on top of the rain and stave off any potential diseases (did you know the netting to keep away those pesky flying foes?).
We've been slowly working through harvest, with the last of the red grapes due to come off over the Easter long weekend. We leave the red grapes until last so they can continue to ripen with deeper colours, higher sugar levels and more complex flavour profiles.
Thanks to our foresight over 2020-21 with our growing arrangements, we're also getting in some magnificent fruit from other regions. From Cowra, we're already picked and processed our Shiraz, Chardonnay, Pinot Gris and Rosé and sparkling bases. For our Chardonnay and sparkling wine, the early picking time helps make sure the acidity and flavour of the grapes are perfectly balanced.
Mudgee has also delivered some uber-tasty Shiraz and Cabernet, alongside Chardonnay which we've got under oak, as well as some muscat, which will be laid down as a fortified wine.
From Orange, we've also sourced some additional Pinot Noir and from the Hunter; Shiraz (which apparently is some of the best fruit from the region this season!)
Unfortunately the wet weather did significantly impact the vineyard in Bigga and the fruit there. However, we will be bottling the 2021 Pinot Noir mid-year and this is looking fantastic. We can't wait to see what vintage 23 brings from Bigga.
Over the coming months, we'll continue to apply ourselves to getting these new wines settled and then onwards to bottling some of vintage 21 and vintage 22 wines.
For all those that have assisted us during this year's harvest - a big thank you to you!
Comments
Commenting has been turned off.