PSA. Mother's Day is on Sunday 9 May 2021 and is just around the corner.
Because Mums are the real superheroes (especially since the Rona), we've got a few ways you can celebrate her, regardless of whether you find yourself in the Canberra wine district or not.

Mother's Day shopping fair
Over the Anzac Day long weekend (24-26 April), come by our winery in beautiful Wamboin for a Mother's Day shopping fair with free entry.
Sample a selection of Contentious wines, condiments and ketchups, Jasper & Myrtle's award-winning artisanal chocolate and cheeses and nibbles.
And if you like what you taste, purchase some for Mum with gift-wrapping available on-site to create bespoke hampers.
Mother's Day gift hampers
Want us to make gifting even easier?
Or separated from your Mum this Mother's Day but want to send her something special, delivered straight to her door (with shipping on us**)?
This Mother's Day, we're offering three types of gift hampers for Mum.
At 99 dollars, our hamper includes a bottle of our 2019 Rosé (Stop and Smell The Rosé), a large MOJO French Pear candle, a Loveshak Red Wine soap bar and a block of Jasper & Myrtle White Chocolate & Sour Cherries chocolate.
At 159 dollars, our hamper includes a bottle of our 2019 Rosé (Stop and Smell The Rosé), a large MOJO Wild Basil & Cucumber candle, a Loveshak Pink & Sparkling soap bar and two blocks of Jasper & Myrtle artisanal chocolate; White Chocolate & Sour Cherries and Orange Cinnamon & Cayenne Dark Chocolate. And there's more! Mum will also receive a jar of Contentious loose leaf tea and a boxed trio pack of Contentious condiments.
If you're feeling creative or if Mum's a wee bit fussy, you can even order a customised hamper. Simply let us know your budget then we'll contact you and help make your selections.
**We're offering free shipping on all Mother's Day hampers until 28 April
Mother's Day lunch
And finally, for the big day on Sunday 9 May, join us for Mother's Day lunch.
Mum will be greeted with a complimentary glass of sparkling because she's the VIP.
Then, choose to lunch à la carte or feast on our seasonal 4-course tasting menu of burrata, wild mushroom gnocchi, Korean-style beef short rib and your choice of dessert. If mum's a wine lover, add on paired wines for an afternoon she'll love.
We can even arrange for a gift to be placed on the table to surprise Mum on arrival. After booking, just give us a call and we'll take care of the rest.
In celebration of Riesling Day on 13 March, we thought we'd give you the lowdown on riesling wine from descriptions of sweet and dry rieslings, how to serve riesling wine including what to eat and pair it with and the state of riesling wine in Australia.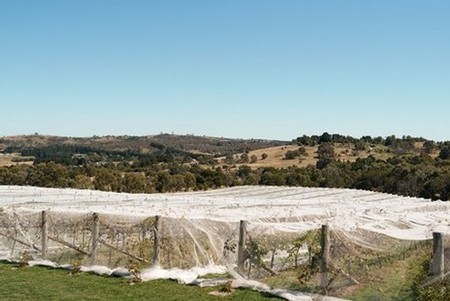 A quick history lesson on riesling wine
The first mention of riesling dates back to 1435 in Germany, though of course there's contention around that.
For centuries, Alsace in France and Australia have also produced premium rieslings.
What we do know for sure is that by the 1850s, riesling had become a very fashionable wine, thanks to its popularity with German nobility.
Riesling in Australia
Riesling came to Australia in the 19th century with the first planting at Camden Park near Penrith in New South Wales. It then spread throughout Australia, especially to South Australia in the hands and hearts of German settlers.
According to Wine Australia, riesling is one of the most underrated wines in Australia. However, as of late, it is definitely on the rise in popularity, as it was in the 1960s and 70s.
The two most popular riesling regions in Australia are the Clare and Eden Valleys in South Australia. Here, their riesling is bone-dry with distinctive lime, lemon and grapefruit flavours.
But of course, we find ourselves in the Canberra district! Australian cool-climate rieslings are dry and complex, typically associated with tight, crisp finishes.
You read that right - rieslings are not always sweet; they can be dry.
Sweet riesling vs dry riesling
The most common misconception about riesling is that it is always sweet - and that it always tastes like that sugary, white cask wine (which in our opinion, shouldn't really be called wine at all).
But riesling can also be dry and in fact, Australian cool-climate rieslings (i.e. the rieslings you'll find out of the Canberra wine region) are known for their crispness. Dry rieslings can have notes of apple, pear, lemon, pineapple and even rockmelon.
Our 2015 Riesling, for example, is a bright riesling, with abundant fresh citrus aroma, and crisp finish, thanks to an acidity that's friendly, but firm.
Sweet rieslings typically have flavours of fruit and a lasting, sweet honey finish.
But rieslings can't just be broken down into 'dry' and ' sweet'. The riesling grape is very versatile; it is complex and has excellent ageing potential where the flavours can mellow and develop over time. In fact, it's one of the few white wines that can be aged for decades. Knowing this, it shouldn't surprise you that rieslings can be also be dessert wines or sparkling wines!
Serving and pairing riesling wine
Because riesling wine is so diverse (thanks to its high acidity), it comes down to selecting the right riesling to pair with your meal.
Dry rieslings are great with seafood, curries and other Asian dishes.
Sweet and aged rieslings match deliciously with rich cheeses, salty cheeses and even fruity desserts.
So to celebrate Riesling Day, start with a crisp, dry riesling and a zesty ceviche. Our 2017 Riesling, 'Come The Raw Prawn', features lemon and lime with a floral twist combined with a crunch green apple texture and hints of tangerine make for an enjoyable finish. As the name suggests, our 2017 Riesling works wonderfully with prawns or any seafood for that matter.
Then, follow up with a richer, dry riesling with an Asian dish (think a curry or even Korean fried chicken). Our 2019 Riesling, 'Crisp In Your Cakehole', is a delicate riesling with citrus and cut hay aromas, underpinned by rich lemon flavours; we love to match it with an Indian fish curry!
Finally, finish off with an aged riesling with a cheese and fruit platter. Our 2005 and 2006 Founder Museum Collection rieslings were showered with awards and are now drinking their best, with rich honey-lemon flavours.
And if you're looking for a rounder Australian riesling, here are our tasting notes for our 2020 Riesling, 'No Riesling to Worry'.
As a general rule of thumb, serve your riesling at 8 degrees.
Contentious Character rieslings
If you've been paying attention, you might've noticed that our riesling range spans over a decade, from 2005 to 2020!
Come visit our cellar door and book a wine tasting to sample some of our Australian cool-climate rieslings and experience the best of the Canberra wine region.
Here's to a delicious Riesling Day on 13 March!
BOOK WINE TASTINGS, LUNCH & DINNER
Unless you're James Halliday or a proper wine snob, you've probably got the wrong ideas about wine.
Because we like to be contentious here at Contentious Character, one of Canberra's wineries serving up the best Australian wine (no contention about that), we're going to explore some of the things people often get wrong.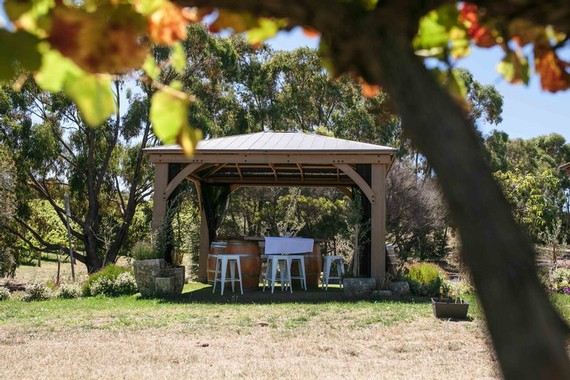 PICTURED: One of our two pavilions; perfect for your small group celebrations. Book here.
"Wine is bad for you"
Says who? It turns out lots of people say this...but that doesn't mean they're right.
Hippocrates, famous for his early medical practices, recommended wine as part of a healthy diet. He said you could use it to disinfect wounds, ease diarrhoea and reduce the pain of childbirth.
In 1991, a study found regular red wine drinkers had better cholesterol. According to the French Paradox, French people can eat more saturated fat, thanks to the resveratrol in red wine. In 2008, resveratrol was said to protect against dementia, fight obesity and Alzheimer's, lower lung cancer risk, and keep hearts "young".
The British Heart Foundation and University of Cambridge upset the wine cart when they said drinking ten glasses of wine a week can shorten life expectancy by two years.
Meanwhile, a Spanish man then died in northwest Spain after a lifetime of drinking four bottles of homemade red wine every day...at 107 years old. He never drank water.
The answer is clear: make up your own mind.
"White goes with fish, red goes with steak"
This is one of those aphorisms that get wheeled out in restaurants all over Australia and perhaps the world. We may even learn it slightly before we're even old enough to drink the stuff. But it's wrong! It's out of date.
You have to look at the cooking technique and the sauce before choosing a wine – not just whether it's fish or meat. For instance, steak tartare or steak with béarnaise sauce goes very well with white Burgundy.
Another thing to consider is texture. If a fish is grilled, the smokiness passed on in the fish is often best paired with a red.
It is also a matter of complementarity. A seared tuna steak with red wine goes with a Pinot Noir and a meat carpaccio with capers and citrus goes with Sauvignon Blanc.
So just don't say it again. It makes you look old.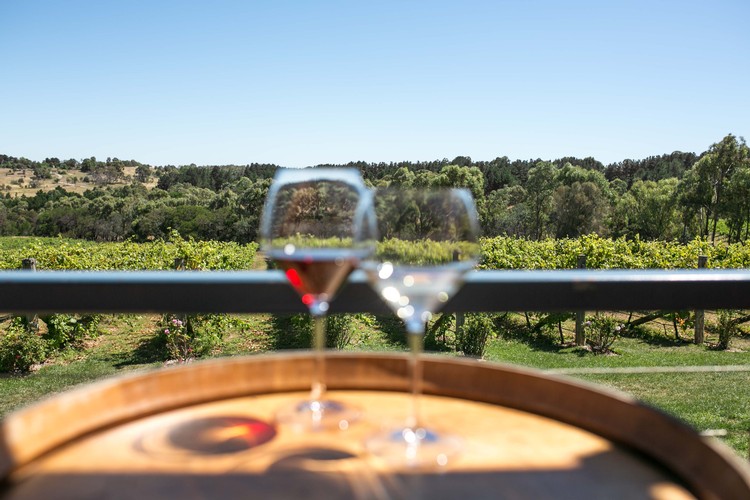 PICTURED: Our vines looking lush!
"Organic wine is healthier"
The debate about organic versus non-organic rages in the food sector so why not the wine industry? You've seen those wholesome looking bottles of organic wine - you know the type where even the labels look healthy enough to eat.
The arguments for organic wine are much the same as for organic food: fewer pesticides and heavy metals, more omega-3 fatty acids, more antioxidants, no antibiotics or synthetic hormones.
But the real "problem" in conventional wine is sulphites. These are preservatives added to wine to prevent it from spoiling, oxidising or aging too quickly. Wine made with organic grapes can have sulphites up to 100 ppm, but conventional wine can have up to 350 ppm.
Unfortunately, it's difficult to make wine that smells, looks or tastes like what people demand, without them. Very few people are actually allergic to them.
In this case, rather than be contentious, we take a balanced approach to the addition of sulphites.
"Only men like big reds"
It's true; some men like big reds, because they enjoy admitting to liking things that are big.
But there are women who like them too. And the converse; that women only like soft, subtle reds like pinots or whites like chardonnay, is wrong too. Apparently, women have more sensitive taste buds so they tend not to like highly tannic or highly acidic wines.
Men like to show off and boast with highly regarded and competition-winning wines. Now that is surprising (sense our sarcasm here please).
At Contentious Character, we don't succumb to these generalisations. We know all types of people like all kinds of wine. So that's why we grow all kinds of wine for all kinds of characters.
"Canberra wine is only for politicians"
Wow, you did not! How contentious. Our Australian wine at Contentious Character is too good to waste on just one small segment of the population, no matter how discerning they are. We are very inclusive and we welcome everyone, even if everything they think about wine is wrong!
Book a wine tasting, lunch or dinner today and come taste our wines and share our views (of the rolling hills of Wamboin - not political!)