Experience the best of Canberra's wineries and restaurants at Contentious Character.
Rolling hills and distant views of the Snowy Mountains create a charming backdrop to our cool-climate vineyards - and they all await you in Wamboin, just 20 minutes from Canberra airport.
Join us for wine tastings, lunch and dinner featuring fresh, local produce or order takeaway for pick-up and delivery (with a bottle of our wine, of course) for the perfect night in.
LUNCH & DINNER
11am to 9pm, Thursday and Friday
11am to 5pm, Saturday, Sunday and Monday
Our menu offers a wide range of tempting fresh local produce, in a blend of traditional Italian and contemporary Australian flair. Everything is chosen to complement our Canberra cool-climate wines beautifully.
Our pizza oven fires up Thursday & Friday nights, to serve up delicious wood fired pizzas.
Choose to feast inside, on our sunlit deck or in one of our two special pavilions, set right besides our vines. (Note: Our pavilions are for parties of 4 to 20 people)
On Thursdays, you'll also find the mic red hot as we run weekly trivia (with prizes galore) and a special Korean menu. Round up the troops and get ready to test your knowledge.
TAKEAWAY
Locals - this one's for you. Enjoy the best of a Canberra winery and restaurant in your own home.
Add on a bottle of Contentious Character wine, throw on a movie and you're set for a good night in.
Then click below, then choose a day, time, number of guests and order.
Delivery and pick-up available on Thursday, Friday between 5-8pm (Delivery fee is 15 dollars)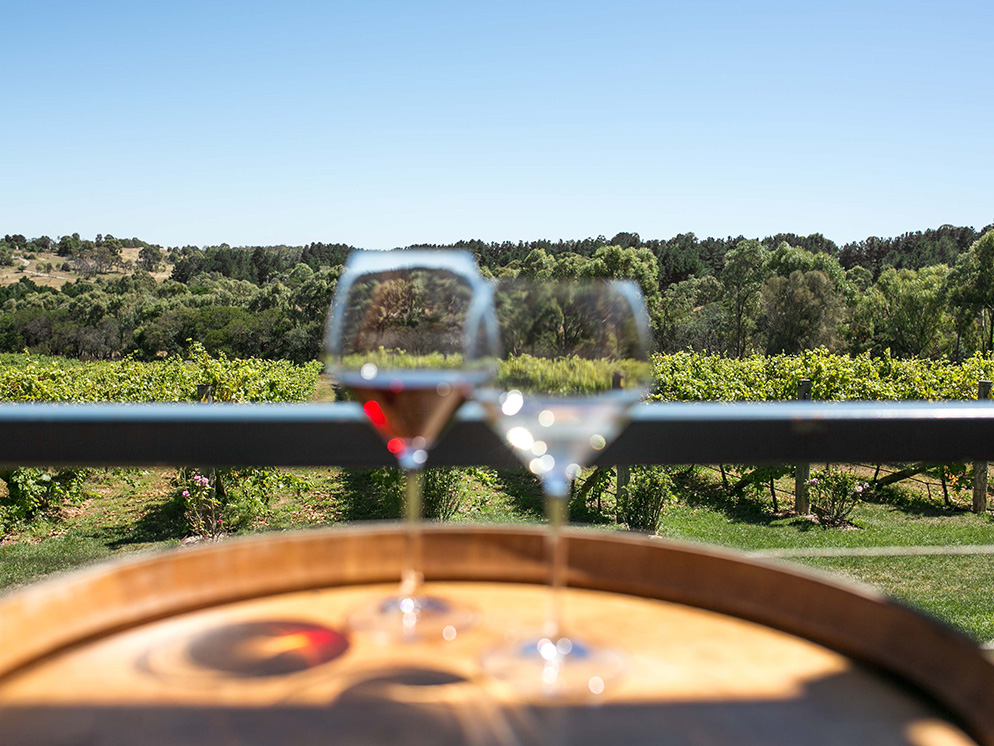 WINE TASTINGS - DONE DIFFERENTLY
You won't find a more unique wine tasting in the Canberra district wine region.
There's a Contentious Character wine to suit everyone, with a large selection of premium Australian wines, ranging from Riesling, Chardonnay, Pinot Gris, Sparklings, Rose, Dessert Wines, Shiraz, Pinot Noir, Merlot to Cabernet Merlot and more.
And that's just varietals - we haven't even mentioned the vintages. Contentious Character vintages commenced in 2015. They are quality old vine Lambert wines from deep within the cellar, and having been lying low for a few years, they have developed an exceptionally mature, mellow character.
Try 5 of our wines in a Half Monty, 8 in a Full Monty or go all the way with an Indulgence tasting of 12 wines; with a mix of varietals and Founders Museum Collection aged vintages and new and old-world styles. All can be paired with matched food elements so you can experience the best of Canberra's wineries and restaurants.
The different personalities of these cool-climate wines will give you plenty to debate, even well after your visit to the Canberra district wine region.