6 June 2021 | Contentious Character
3 Reasons Why We Love Truffles
It's our favourite time of the year - truffle season!
What is it about these buried treasures that just get our feathers so truffled?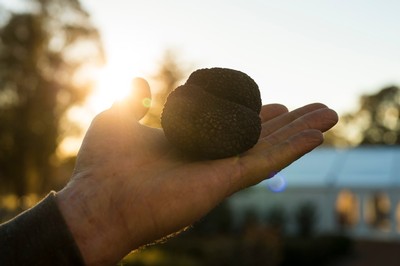 Firstly, that smell. It's unmistakeable. It's earthy, musky and a little bit sweet. For us, our winery is near the Kowen Forest which is Canberra's largest pine plantation and truffles remind us of the forest floor, thick with pine needles, after fresh rainfall. Like other exotic foods, truffles can be an acquired smell and taste but we for one, are addicted to them!
Secondly, their rarity just makes them oh-so-irresistable. Truffles are finicky to grow and they're very elusive, especially in the wild. They love to play hard to get (they're an aphrodisiac after all) and we're always up for the chase. By the way, did you know that truffles have a symbiotic relationship with their host trees? So truffles grow on the roots of trees like oak and hazelnut trees. The trees provide the truffles with sugar and the truffles provie the trees with extra water and nutrients. How cute is that?
Thirdly, truffles pair best with fatty foods, creating luxurious, decadent food experiences . Think butters, creams, chocolate, foie gras...and it's not a 'fatty food' but truffle + wine = match made in (our) heaven. At our Truffle Dog Hunt n Lunch, we'll be serving a pumpkin ravioli with sage butter and truffle, chicken breast with chestnut mushroom and truffle cream sauce and truffle-infused chocolate mousse (a collaboration with Jasper & Myrtle). Take the option to add on paired wines and you're in for a real treat of a day.
We're running this Truffle Dog Hunt demonstration (a peek into what a real hunt would be like) on Saturday 19 June, 26 June and 3 July.
Or go all into the truffle season and join us at our Annual Truffle Gala Dinner on Saturday 31 July. Join us for a FIVE-course dinner with paired wines. The mood will be set with classical music (it's quite an indulgent night after all) and there'll also be a truffle talk so you can ask everything you've ever wanted to know about these fascinating funghi.
Truffle season only comes around once a year so we look forward to diving right in with you for 2021.
Comments