5 March 2021 | Contentious Character
Riesling Day: Everything You Need To Know About Riesling Wine
In celebration of Riesling Day on 13 March, we thought we'd give you the lowdown on riesling wine from descriptions of sweet and dry rieslings, how to serve riesling wine including what to eat and pair it with and the state of riesling wine in Australia.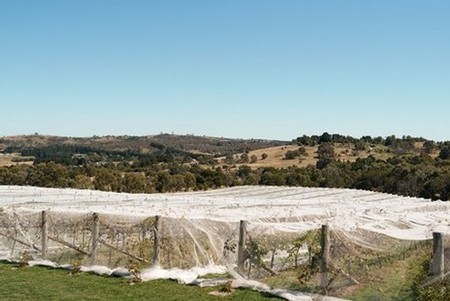 A quick history lesson on riesling wine
The first mention of riesling dates back to 1435 in Germany, though of course there's contention around that.
For centuries, Alsace in France and Australia have also produced premium rieslings.
What we do know for sure is that by the 1850s, riesling had become a very fashionable wine, thanks to its popularity with German nobility.
Riesling in Australia
Riesling came to Australia in the 19th century with the first planting at Camden Park near Penrith in New South Wales. It then spread throughout Australia, especially to South Australia in the hands and hearts of German settlers.
According to Wine Australia, riesling is one of the most underrated wines in Australia. However, as of late, it is definitely on the rise in popularity, as it was in the 1960s and 70s.
The two most popular riesling regions in Australia are the Clare and Eden Valleys in South Australia. Here, their riesling is bone-dry with distinctive lime, lemon and grapefruit flavours.
But of course, we find ourselves in the Canberra district! Australian cool-climate rieslings are dry and complex, typically associated with tight, crisp finishes.
You read that right - rieslings are not always sweet; they can be dry.
Sweet riesling vs dry riesling
The most common misconception about riesling is that it is always sweet - and that it always tastes like that sugary, white cask wine (which in our opinion, shouldn't really be called wine at all).
But riesling can also be dry and in fact, Australian cool-climate rieslings (i.e. the rieslings you'll find out of the Canberra wine region) are known for their crispness. Dry rieslings can have notes of apple, pear, lemon, pineapple and even rockmelon.
Our 2015 Riesling, for example, is a bright riesling, with abundant fresh citrus aroma, and crisp finish, thanks to an acidity that's friendly, but firm.
Sweet rieslings typically have flavours of fruit and a lasting, sweet honey finish.
But rieslings can't just be broken down into 'dry' and ' sweet'. The riesling grape is very versatile; it is complex and has excellent ageing potential where the flavours can mellow and develop over time. In fact, it's one of the few white wines that can be aged for decades. Knowing this, it shouldn't surprise you that rieslings can be also be dessert wines or sparkling wines!
Serving and pairing riesling wine
Because riesling wine is so diverse (thanks to its high acidity), it comes down to selecting the right riesling to pair with your meal.
Dry rieslings are great with seafood, curries and other Asian dishes.
Sweet and aged rieslings match deliciously with rich cheeses, salty cheeses and even fruity desserts.
So to celebrate Riesling Day, start with a crisp, dry riesling and a zesty ceviche. Our 2017 Riesling, 'Come The Raw Prawn', features lemon and lime with a floral twist combined with a crunch green apple texture and hints of tangerine make for an enjoyable finish. As the name suggests, our 2017 Riesling works wonderfully with prawns or any seafood for that matter.
Then, follow up with a richer, dry riesling with an Asian dish (think a curry or even Korean fried chicken). Our 2019 Riesling, 'Crisp In Your Cakehole', is a delicate riesling with citrus and cut hay aromas, underpinned by rich lemon flavours; we love to match it with an Indian fish curry!
Finally, finish off with an aged riesling with a cheese and fruit platter. Our 2005 and 2006 Founder Museum Collection rieslings were showered with awards and are now drinking their best, with rich honey-lemon flavours.
And if you're looking for a rounder Australian riesling, here are our tasting notes for our 2020 Riesling, 'No Riesling to Worry'.
As a general rule of thumb, serve your riesling at 8 degrees.
Contentious Character rieslings
If you've been paying attention, you might've noticed that our riesling range spans over a decade, from 2005 to 2020!
Come visit our cellar door and book a wine tasting to sample some of our Australian cool-climate rieslings and experience the best of the Canberra wine region.
Here's to a delicious Riesling Day on 13 March!
BOOK WINE TASTINGS, LUNCH & DINNER
Comments
dielenboden kaufen
@ 06/09/2021 at 5:16 AM
I really appreciate this wonderful post that you have provided for us. I assure this would be beneficial for most of the people.
wm casino
@ 08/09/2021 at 11:35 PM
I love the way you write and share your niche! Very interesting and different! Keep it coming!.wm casino
Angular developer
@ 12/09/2021 at 3:04 PM
Thanks for sharing this information. I really like your blog post very much. You have really shared a informative and interesting blog post with people..
exam代考
@ 12/09/2021 at 10:04 PM
我们的美国代写类型包含不仅限于:网课代修、EXAM代考、GRE/GMAT代考、AP代考、QUIZ代考、单元代考、写作类ESSAY,PAPER,REPORT,RESEARCH。作业类:ASSIGNMENT,HOMEWORK,PPT,CASE STUDY,REVIEW,CS编程等,数据分析 网课类:覆盖90% 人文社科,商,经,管。有需要随时可以扫描二维码或QQ/微信 7878393.
Videoproduktions-Firma
@ 13/09/2021 at 7:21 AM
i am always looking for some free stuffs over the internet. there are also some companies which gives free samples.
tải phần mềm cho macbook
@ 18/09/2021 at 5:25 PM
i am always looking for some free stuffs over the internet. there are also some companies which gives free samples.
www.primediamax.com
@ 18/09/2021 at 9:12 PM
PriMediaMax - Socialmedia-Management bietet kostengünstiges Marketing in den sozialen Netzwerken für Freiberufler, Einzelunternehmer, Kleinunternehmer, Handwerksbetriebe und sonstige Gewerbetreibende.
PriMediaMax hilft Ihnen Ihr Produkt oder Ihre Dienstleistung optimal zu präsentieren und eine Kaufentscheidung positiv zu beeinflussen - messbar!
Mit dem richtigen Partner an der Seite ist Marketing kein "Hexenwerk" mehr!
Zum Portfolio gehören:  Accountanalyse & Accounterstellung  Beratung & Strategiekonzeption  Reaktives Communitymanagement  Redaktion & Contenterstellung  Corporatebranding & Logo-Design  Monitoring & Reichweitenmessung  Kampagnenplanung & Marketing  Storybuilding & Mediengestaltung  hochwertige Videoproduktionen  hochwertige Businessfotografie  Facebook-Ads & Google-Ads  Recruiting-Kampangen  Flyerdesign & Flyerdruck  Branchenbucheinträge
www.primediamax.com