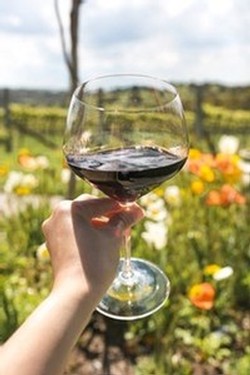 There are four of us at Contentious Character and, in some ways, we're like a blended family ourselves. The two couples bring their own special qualities to the blend. And, unfortunately, also some traits we're not quite so proud of but it keeps things interesting here at our vineyard in the Canberra region.
Cabernet Sauvignon is a happy blended family of grapes - but it happened all by itself. Back in the 1600s, the Cabernet Franc and Sauvignon Blanc had a dangerous liaison in Bordeaux and produced a child. If someone had not thoughtfully taken a cutting, the blend would have disappeared altogether. And what a shame that would've been; a world without the 'king of grapes'.
Today, Cabernet Sauvignon is probably the most loved and popular red variety in the world (merlot drinkers might like to contest that).
The beginnings of cabsav in Australian wine
Cabernet Sauvignon first graced Australian soil in the 19th century with the oldest surviving vineyard being the Penfolds Block 42 in the Barossa, planted in 1885.
It is known affectionately in Australia as 'cabsav', even though cabsav sounds like a taxi with GPS or a dish with red sausages. The important thing is that we all know what we mean by it; it's a 'big, full-bodied bold red'.
The characteristics and profile of Cabernet Sauvignon
You may have heard of the Cabernet 'donut'. This refers to cabsav hitting the front of the palate with its fruit flavours before skipping to a lingering medium acidity and tannin on the back of the palate.
Here are some other words to describe cabsav (besdies "big, full-bodied bold red") at your next wine tasting so you can flaunt your oenophile knowledge:
COLOUR: typically darker and deeper than a Merlot
FRUIT: Black cherry, black currant and blackberry
OTHER: Black pepper, cedar, licorice, tobacco, vanilla
OAK: Loves 9-18 months in French oak.
TANNIN: Medium
ACIDITY: Medium, can linger on the tongue
BLENDS: It blends well with Bordeaux wines Italian Supertuscans
And in fact, the style of Cabernet Sauvignon depends on how ripe the grapes are at harvest:
Unripe grapes are high in pyrazines, so they taste more like green capsicum and vegetation (and actually, cool-climate wineries like those in the Canberra region are known to produce cabsavs with this profile)

Ripe grapes are fruity with blackcurrants and black cherries and when overripe, can taste jammy
"What does cabsav go with?"
Many people will say that cabsav begs to be paired with food, because it is heavier wine. If you're sharing our view from here in the Canberra region, we think it pairs well with our woodfired mushroom pizza (add tomato sauce for a REALLY good time). Cabernet Sauvignon also goes with a juicy marinated ribeye steak.
This is because cabsavs are generally quite complex wines so they go well with foods that are high in fats and that 'umami' flavour which roughly translates to a 'pleasant savoury flavour' (hence why mushrooms and red meat are our go-to's).
Which wine regions are known for their Cabernet Sauvignon?
This happily blended family is the world's most widely planted grape. This is likely due to its strong, hardy nature, thanks to its thick skin and the fact it ripens later in the vintage to avoid frost and rot. It is an adaptable grape that even grows well in a desert (though we'd never call the Canberra region that!).
Look for cabsav from South America, Lebanon, Long Island, New York and Chile. When it comes to Australian wine, you can find complex and subtle cabsav in the Coonawarra, Margaret River, Hilltops in NSW and, of course, Canberra (specifically in the rolling hills of Wamboin).
The most expensive cabsav would have set you back a cool half-a-million US dollars at auction. It's a Screaming Eagle 1992 from the famous Napa Valley. One wine connoisseur described it as "exceptionally impressive", and we are sure he meant the wine...
One contentious character was actually served cabsav at his inauguration. We're talking about none other than Donald Trump. He was fortunate enough to be poured the Delicato Black Stallion 2012 Limited Release (again from the Napa Valley). But it was wasted on him: Donald Trump, like George Bush, is teetotal.
Unlike Trump, Cabernet Sauvignon is a variety that can age gracefully for many decades.
At Contentious Character, we've taken our blended family a little further. We blend our cabsav with Merlot (and evenwith a hint of Shiraz) and our latest release makes for quite the sumptuous drink. So the next time you're in the Canberra region, come out to the rolling hills of Wamboin and enjoy a tasting at our cellar door (wine tasting menu here).
As we publish this, Christmas is next month. *Jaw drop*. It feels like we literally just took down the tree but then again, it also feels like we're stuck in March so who really cares! What we should care about are the Christmas parties. More than any year before, we all need a Christmas party that'll get us feeling jolly and that'll warm our hearts and stomachs. Well, look no further. We're ready to have you.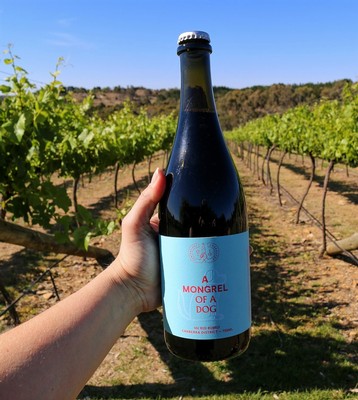 Imagine a glass of sparkling wine on your table, and there's something uplifting and chirpy about it. But not all that glitters is the colour of gold. Thanks to a Melbourne parliamentarian and a clever French winemaker, the first Australian sparkling burgundy found its way down Australian throats as early as 1881.
Since then, wine lovers all over the world now recognise sparkling red made with Shiraz as a true blue Aussie invention. Aussies didn't actually invent sparkling red wine – we can thank the Italians for giving us yet another pleasure for the senses. Particularly famous Italian sparklings are Lambrusco, from Emilia-Romagna or Lombardy and Brachetto d'Acqui, from Piedmont.
Remember bubbles are not just bubbles. Frizzante describes a bubbliness of 1-2 atmospheres of pressure in a bottle, compared to Champagne with 7 atmospheres and Lambrusco with 3-5 atmospheres.
LAMBRUSCO
Lambrusco is a name good enough to sing from a gondolier and describes both the grape and the wine. You may drink it sweet (dulce) or dry (secco), depending on your appetite. Dry Lambrusco is more rhubarb and sour cherry, and goes with meaty fare, like hamburgers or pepperoni pizza. Sweet Lambrusco tastes of boysenberries, blueberries and strawberries, so goes down well with a dessert of berry pie or waffles.
BRACHETTO D'ACQUI
Brachetto is the grape, coming from the d'Acqui region of Piedmont. Tasting of raspberry, blackberry, spice and cherries, it is sweet and, unlike our Australian red sparklings, low alcohol. If our sources are correct, it is best drunk with chocolate!
With a pile of Easter eggs, truffles and sundry bars leftover from Easter, this may be the time for all contentious characters to test that theory.
AUSTRALIAN SPARKLING SHIRAZ
While Shiraz is not an Australian grape, we can certainly claim sparkling Shiraz as our own. Instead of a mountain of berries, look for the spiciness of pepper and liquorice, with brown sugar and just a little blackberry.
Sparkling red is a great choice for breakfast with omelettes, fried eggs, beans or pastries. It's also a great accompaniment to a barbecue, but these days the famous Aussie barbecue is an endangered species. Remember its alcohol level is quite high and we don't want you drinking too much by yourself. (Drink contentiously. But responsibly.)
Contentious Character can supply you with A Mongrel of a Dog for your next intimate dinner. Our NV Red Blend Bubbly is an intriguing blend of red vintages from 2008 to 2014, all fermented in oak barrels to make a full-bodied red that's rich in complexity. It has a balance of sweetness and acidity which pairs well with your favourite spicy foods, and dark fruity flavours which pairs well with chocolate and coffee, all for a mere $30.
Put the sparkle back into your life. Better red than dead.
Our cellar door is open from 11 am to 8 pm Thursday to Sunday. Pop in and browse our exclusive cellar door deals, or order online through our website.
Our restaurant is also offering takeaway and dine-in options. Try the Founders Museum Wine and Feed Me Series, an unlimited tailored wine and food experience for 2hrs, bookings at 11:30, 2 pm, and 6 pm. $150 pp with discounts for locals and club members.
You can also dine in on our takeaway menu if seating is available. Call first to check. Walk-ins will be seated on first in, first-served basis. Takeaway will also still be available to order via the 'Book Now' tab on our website.
Murder Fifty Shades of Merlot in Your Cakehole
I COULD MURDER A MERLOT
Merlot is the biggest grape variety in all of France and 67 million French can't be wrong! Yet some people are still living in the dark ages of 2004. If you saw Miles in Sideways protest that he ain't gonna drink a fucking Merlot, you know what we mean. Merlot has come of age and, just like us, it really is time to grow up. Next time you thirst for a titillating, surprising glass of wine, then go ahead and murder a Merlot. Our Merlot is so delicious, like murder, it ought to be illegal.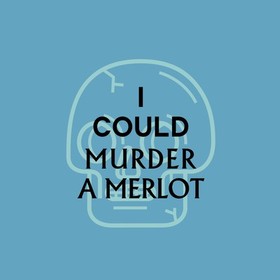 CRISP IN YOUR CAKEHOLE
We were talking about some of the big mouths in the wine industry and how no one knows everything about wine, not even middle aged men. Everyone's opinion is valid as long as we agree with it. But rather than say something crisp like, "shut your cakehole!", we decided to put something crisp into your cakehole. The obvious crispy wine is Riesling - with all that lemon and lime on the palette and nose, it's not contentious. But it's got to be the crispest wine for your cakehole.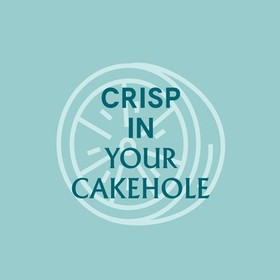 FIFTY SHADES OF GRAPE
When we say, "fifty shades", we could mean a wine that is very nuanced and subtle, or just our winemakers' heads. Our Pinot Gris has shades of white, red or blue grey, depending on whether you look at it first thing in the morning or after a few glasses. The 2015 erotic movie Fifty Shades of Grey, inspired us to name our very first Pinot Grigio, but we cannot guarantee the same effect.
A Note re Pinot Gris / Pinot Grigio - We often explain the origins of Pinot Gris and Pinot Grigio, its Italian counterpart in our cellar door. We will typically pick the version of the name that invokes the style of the wine, and in this case we decided this was our first Pinot Grigio.


Nobody needs reminding about the devastation caused by this Summer's bushfires. Luckily for us at Contentious Character, we managed to escape. But a few vineyards, like Tumbarumba not far from the ACT and others on the South Coast of NSW, were not so lucky. Even so, most have not escaped the constant swirl and sweep of smoke.
According to the Australian Wine Research Institute (AWRI), when vineyards and grapes are exposed to a lot of smoke, it can leave wine with an ashy, burnt or smoky taste. This is called "smoke taint". The official view is vintners should never release a wine they know to be affected by smoke taint. In fact, most vintners would rather pour their beloved wines down the sink than be hammered by an international wine critic further down the track.
But is this view a bit too, well, rigid?
What do these delicious foods have in common: peaches, tomatoes, potatoes, eggs, oysters, cheese, nuts and salmon? Clever chefs will guess right away – you can smoke them. But not many vintners think you can or should smoke your wines. Now that's contentious.
Nobody knows how much smoke a grape can handle before a wine tastes unpalatable. Grape variety makes a difference too – Sangiovese is affected more than cabernet sauvignon. Fresh smoke is better than stale smoke. Anyone who went into a pub in the old days before smokers got corralled into the gambling room, knows that stale smell.
We do know grapes can be affected quite early in their cycle, starting at least from the pea-berry stage, and that taint can also transfer through the leaves. Compounds from burnt wood bind with sugars in the grapes. These compounds get released during fermentation and over time, in their journey from barrel, to bottle, and potentially to your discerning taste buds.
One way to test them for smoke taint is through testing grapes and sampling early micro-ferments, which is good insurance and can help with planning for the vintage. Not everyone holds this view. Some think there is no correlation between a few wine samples and the final result.
One enterprising vintner even claims the smoky aroma and taste of tainted wine is not unlike single malt whisky, or using charred barrels to get a smoky taste into their wines.
We think there's a fine line between a subtle smoky taste and a wet ashtray.
Our view is a little more nuanced. Canberra has had its share of bushfires in the past and we know some of our grapes have probably been affected in some way or other, just as they have been by the drought and ever changing season – there are lots of variables still in play and how we work with the wine making we decide to undertake, will determine the 2020 vintage. We're challenged, excited and optimistic, that we'll still be able to bring some very interesting and high quality, wines, to market from 2020. Perhaps nature has, in its own way, contributed to the terroir. We might even be tempted to bring out a new label: Scomo's Smoky Chardy.
Then again, as we know, politics is all smoke and mirrors. You can trust Contentious Character to be a lot more honest.
It is one of the most graceful words in French, and a very popular white wine. Many have called it Queen of the Grapes (cabernet sauvignon is King). Even so, chardonnay's image in Australia has been surprisingly contentious!
It is called Grandma's drink, chardy and even "really noice", thanks to the ever-articulate Kath and Kim. (Kim pronounced it "cardonnay, because it has a silent haitch"!)
Chardonnay has also been unfairly associated with affluent left-wing drinkers in the terms, "chardonnay set" and "champagne socialist". Unfair to both the drinkers and the wine. Luckily this varietal is versatile, easy to manage and high yielding, and not affected by political prejudice.
This green grape was first grown in Burgundy in France and particularly in the area of Chablis. You can now find it all over the world in Argentina, California, Chile, Italy, New Zealand and Australia. It thrives in both warm and cold climates. Many chardonnays are used to produce sparkling wines.
So much taste
While the grape itself has a neutral taste, soil, climate and aging in oak, create a wide range of enticing flavours. Most Australian chardonnays have plenty of ripe melon, grapefruit and ripe peach fruit. When chardonnay is very ripe, it tastes of tropical pineapple, guava and mango. When barely ripe, more like lemons and green apples.
Cooler regions, like Canberra, Tasmania and Mornington Peninsula have more subtle characters, with a lot more grapefruit and lime. Cool climate chardonnays tend to express the site of the vineyard, region and season.
Oaking chardonnay brings in flavours of vanilla, spice, toast and caramel. Meanwhile, the process of aging converts malic into lactic acid, which helps to add a rich buttery flavour.
Characteristics
FRUIT: Lime, lemon, apple, pineapple, grapefruit
ALSO: Honeysuckle, vanilla bean, almond, jasmine
AGING: 5-10 years in oak
ACIDITY: Medium high (unoaked cool climate)
SERVE: Oaked 12 degrees C, unoaked 9 degrees C
OTHER NAMES: Chablis, Pouilly-Fuissé and Meursault
Whether you prefer an oaked or unoaked chardonnay, it is easy to pair with your next meal.
A young unoaked cool climate Chardonnay (like Contentious Character's 2015 Chardonnay) pairs with delicate and light foods. Choose grilled fish, chicken, prawns or sushi. Chardonnay that is well aged in oak and full bodied pairs well with cheddar, foie gras, veal chops and (for the vegetarians who are so often left out of wine pairings) pumpkin ravioli.
Chardonnay even has its own International Chardonnay Day, on a date in late May. This could be the perfect time to enjoy one of the most expensive chardys in the world, Domaine Leflaive Batard Montrachet, for somewhere around $US6,000.
If you would like to treat Grandma to a bottle of her favourite, look no further than a Contentious Character 2004 Chardonnay for $33 or a lighter more contemporary Chardonnay like our 2015 for $35. But if you visit our cellar door to taste it first, you might discover Grandma (or Kath or Kim) knew something you didn't.
Riesling is a white variety of grape sadly misunderstood in Australia. Many would remember Riesling in cheap casks at kitchen parties, that sweet stuff known as "hock" or what we had to drink before chardonnay and sauvignon blanc came along.
In fact, Riesling is one of the oldest grape varieties around and, unlike the others, it is German. The monks in medieval Germany used to cultivate the grape and were, no doubt, popular with any visitors. Much later, when Joni Mitchell sang about Rhine wine, it was probably Riesling.
Loves cold climates
After Germany, Australia devotes the second biggest area to these versatile grapes. This delicately scented white grape can satisfy the driest of tastes or offer the stickiest of accompaniments to pudding. Some say it's the quintessential Australian summer wine. Its sharp lemony flavours can be perfect for those hot, balmy nights.
Paradoxically, it grows beautifully in cold climates like Canberra. The grape buds later than usual and its bark is naturally thicker, which protects it from frosts in Spring and cold snaps in Winter. Riesling grown at altitude, or southern latitudes like Tasmania, loves the cold nights that favour its acidity. Clare and Eden Valleys in South Australia boast the right terroir for Riesling.
Canberra is host to a longstanding wine competition - The Canberra International Riesling Challenge - attracting Riesling lovers from vineyards all over the world.
A German lesson
One advantage of our Australian Rieslings is they are easier to pronounce! If you want to understand German Riesling, its vigorous acidity may help you get your tongue around these:
Trocken – bone dry
Kabinett - sweet
Auslese - very ripe
Beerenauslese and Trockenbeerenauslese – dessert wines.
Special character of Riesling
Riesling is rarely blended with other grapes. Wine lovers say, "let the grapes do the talking", because, like a beautiful woman, they don't need enhancement. Unlike other whites, they enjoy being aged because of their highly acidic character.
Look for a soft, translucent colour, or golden when aged
Taste berries, apricot, nectarine, lime and lemon
Age 5-15 years for dry, 10-30 or more years for sweet
Serve fridge cold with spicy Asian or Indian food.
Noble rot
The priciest late harvest dessert wines are lovingly made from Riesling grapes left on the vine well past their usual harvest time. This encourages a delightful fungus called Botrytis cinerea or "noble rot".
Frederic Prinz von Anhalt, husband of the late Zsa Zsa Gabor, claimed he had 300 bottles of Riesling in his cellar. (He also married and divorced six wives before meeting Zsa Zsa and, according to celebrity press, sold 68 knighthoods for $US50,000 each.)
He was certainly a contentious character, maybe even a noble rotter.
Undervalued...mostly!
Considering their quality, many Rieslings are still undervalued. One wine you probably won't buy in a hurry is the Egon Muller-Scharzhof Scharzhofberger Riesling Trockenbeerenauslese. Translated, it means vintner Egon Muller's sweet medium bodied dessert Riesling from the Scharzhofberger vineyard – and it sells for up to $US20,000.
At Contentious Character, you can buy our best Riesling for much, much less than it should really cost. They don't come in a caska but you are more than welcome to take them to parties!
One of the wonderful things about wine is their evocative French names. Pinot is a variant of pineau, which means these grapes are tightly packed like a pine cone and noir, of course, describes their black-blue berries.
Cool Canberra
The most famous pinot noirs come from Burgundy in east-central France. Pinot noir prefers a cool climate, because too much heat makes the grapes ripen too quickly and lose their full flavour and aroma.
You may be surprised to know that parts of Canberra provide the perfect cool climate for these tantalising grapes. (Madeline Triffon once called Pinot Noir "sex in a glass".)

Canberra has a continental climate where there is a big difference between the coldest and hottest months. Like Burgundy, Canberra has high temperatures in midsummer and plenty of sunshine, while the autumns are long and cool. Even cold snaps in February or March help give these grapes an enviable balance of acid and sugar and plenty of time to develop their delightful flavours.
You may have enjoyed pinot noir from other cool regions of Australia. Mornington Peninsula, Tamania, Gippsland and Bellarine Peninsula (home to the By Farr label) are a few. New Zealand also has the terroir or "sense of place" for pinot noir – that magic blend of climate, soil, aspect and je ne sais quoi. Across the ocean, northern Italians, cooler Californians, Chileans and Argentines also play host to the blushing blue pinot.
How will I know?
What are the special characteristics of a pinot noir?
Look for a pale, translucent colour
Taste cranberry, cherry and raspberry with others like mushroom, wet leaves or caramel
Place in French Oak barrels
Age for 2 to 18 years, depending on style
Serve cool to touch.
Many people ask if they can cellar their favourite wines. In fact, many wines that can be aged come from lofty vineyards and cool climates like Canberra. Pinot noir ages well and develops game, truffle and earthy characters (a bit like us).
Should you wish to buy the most expensive pinot noir, you can spend $15,000 for a 30-year-old from Burgundy, the 1985 Richebourg Brand Cru. If your needs are a tad more humble, you could choose a Te Wahi Pinot Noir, Central Otago, 2014 for $65.
Luckily for you, we have a Contentious Character Pinot Noir, Canberra cool climate, vintage 2006 for $33. You may want to enjoy it with a whole salmon or a richer meat, like venison or duck. Or you could just put it away for a day when you're pining.