1 November 2020 | CABERNET SAUVIGNON | Tony Mansfield
Cabernet Sauvignon: The happily blended family of CabSav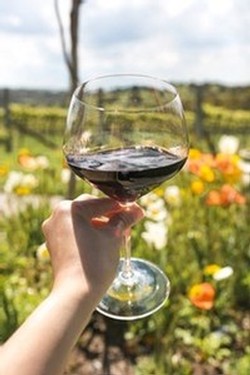 There are four of us at Contentious Character and, in some ways, we're like a blended family ourselves. The two couples bring their own special qualities to the blend. And, unfortunately, also some traits we're not quite so proud of but it keeps things interesting here at our vineyard in the Canberra region.
Cabernet Sauvignon is a happy blended family of grapes - but it happened all by itself. Back in the 1600s, the Cabernet Franc and Sauvignon Blanc had a dangerous liaison in Bordeaux and produced a child. If someone had not thoughtfully taken a cutting, the blend would have disappeared altogether. And what a shame that would've been; a world without the 'king of grapes'.
Today, Cabernet Sauvignon is probably the most loved and popular red variety in the world (merlot drinkers might like to contest that).
The beginnings of cabsav in Australian wine
Cabernet Sauvignon first graced Australian soil in the 19th century with the oldest surviving vineyard being the Penfolds Block 42 in the Barossa, planted in 1885.
It is known affectionately in Australia as 'cabsav', even though cabsav sounds like a taxi with GPS or a dish with red sausages. The important thing is that we all know what we mean by it; it's a 'big, full-bodied bold red'.
The characteristics and profile of Cabernet Sauvignon
You may have heard of the Cabernet 'donut'. This refers to cabsav hitting the front of the palate with its fruit flavours before skipping to a lingering medium acidity and tannin on the back of the palate.
Here are some other words to describe cabsav (besdies "big, full-bodied bold red") at your next wine tasting so you can flaunt your oenophile knowledge:
COLOUR: typically darker and deeper than a Merlot
FRUIT: Black cherry, black currant and blackberry
OTHER: Black pepper, cedar, licorice, tobacco, vanilla
OAK: Loves 9-18 months in French oak.
TANNIN: Medium
ACIDITY: Medium, can linger on the tongue
BLENDS: It blends well with Bordeaux wines Italian Supertuscans
And in fact, the style of Cabernet Sauvignon depends on how ripe the grapes are at harvest:
Unripe grapes are high in pyrazines, so they taste more like green capsicum and vegetation (and actually, cool-climate wineries like those in the Canberra region are known to produce cabsavs with this profile)

Ripe grapes are fruity with blackcurrants and black cherries and when overripe, can taste jammy
"What does cabsav go with?"
Many people will say that cabsav begs to be paired with food, because it is heavier wine. If you're sharing our view from here in the Canberra region, we think it pairs well with our woodfired mushroom pizza (add tomato sauce for a REALLY good time). Cabernet Sauvignon also goes with a juicy marinated ribeye steak.
This is because cabsavs are generally quite complex wines so they go well with foods that are high in fats and that 'umami' flavour which roughly translates to a 'pleasant savoury flavour' (hence why mushrooms and red meat are our go-to's).
Which wine regions are known for their Cabernet Sauvignon?
This happily blended family is the world's most widely planted grape. This is likely due to its strong, hardy nature, thanks to its thick skin and the fact it ripens later in the vintage to avoid frost and rot. It is an adaptable grape that even grows well in a desert (though we'd never call the Canberra region that!).
Look for cabsav from South America, Lebanon, Long Island, New York and Chile. When it comes to Australian wine, you can find complex and subtle cabsav in the Coonawarra, Margaret River, Hilltops in NSW and, of course, Canberra (specifically in the rolling hills of Wamboin).
The most expensive cabsav would have set you back a cool half-a-million US dollars at auction. It's a Screaming Eagle 1992 from the famous Napa Valley. One wine connoisseur described it as "exceptionally impressive", and we are sure he meant the wine...
One contentious character was actually served cabsav at his inauguration. We're talking about none other than Donald Trump. He was fortunate enough to be poured the Delicato Black Stallion 2012 Limited Release (again from the Napa Valley). But it was wasted on him: Donald Trump, like George Bush, is teetotal.
Unlike Trump, Cabernet Sauvignon is a variety that can age gracefully for many decades.
At Contentious Character, we've taken our blended family a little further. We blend our cabsav with Merlot (and evenwith a hint of Shiraz) and our latest release makes for quite the sumptuous drink. So the next time you're in the Canberra region, come out to the rolling hills of Wamboin and enjoy a tasting at our cellar door (wine tasting menu here).
As we publish this, Christmas is next month. *Jaw drop*. It feels like we literally just took down the tree but then again, it also feels like we're stuck in March so who really cares! What we should care about are the Christmas parties. More than any year before, we all need a Christmas party that'll get us feeling jolly and that'll warm our hearts and stomachs. Well, look no further. We're ready to have you.
Comments
Commenting has been turned off.