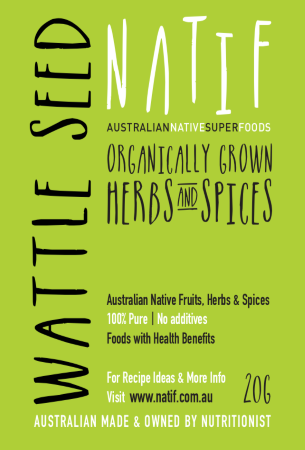 Wattleseed (Roasted & Ground)
Natif Native Super Foods
Wattleseed is highly nutritious and versitile to use.
Wattleseed has been a staple food for Indigenous people for thousands of years as a rich source of protein, fibre and carbohydrate and used to make cakes and damper.
Wattleseed has a hazelnut, chocolate and coffee taste and aroma, it can be used as a coffee substitute. Wattle lattes taste great but don't throw away the nutritious seeds as they can be reused in baking or cooking..
As a Latte or long black. Wattlelatte !
In a coffee plunger, Brew 5-10g of NATIF Wattleseed Grind into 1 cup of boiling water, wait 5 minutes, strain, then add your favourite frothed milk or serve as a long black
Alternatively add 1 cup of milk to a saucepan with 5-10g of Wattleseeds, simmer for 1minute then let stand for 3 minutes, strain into a coffee cup and add some local honey. As an option add a sprinkle of cinnamon or turmeric on top.
For desserts soak the Wattleseeds in a small amount of hot water (just enough to cover) for a few minutes for a less crunchy texture when adding to other recipes.
Can be added to healthy deserts, tarts and baking
Use to thicken soups and sauces
Use the brew to make thick shakes, cocktails, sodas and smoothies
You can even use the seeds as a facial and body exfoliant !
Wattle you make !